Scioscia confident Weaver is making progress
Scioscia confident Weaver is making progress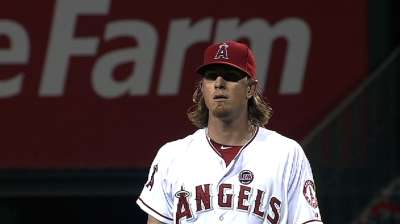 ANAHEIM -- Jered Weaver has made four starts since returning from the disabled list and although the first one -- an impressive six inning, seven strikeout victory over the Dodgers -- electrified the Angel Stadium crowd, the right-hander has yet to return to his dominant self.
In just his second start of the year, a road game against Texas, Weaver fractured his left elbow and missed 50 days while on the DL.
Since his return, the 30-year-old right-hander is 1-2 with a 4.18 ERA and has yet to pitch into the seventh inning.
"He's still working into his stuff," Angels manager Mike Scioscia said. "He's throwing the ball as we would expect for a guy who's missed some time."
On Sunday, Weaver struggled with command, tying a career high with four walks and was frustrated with his inability to get deep into the game. However, Weaver did throw 103 pitches -- the most since his injury -- so it appears the length he desires is coming soon.
"He's going to have to get stretched out," Scioscia said. "It was good to see him get into the pitch count he got to today and hopefully he'll continue to build off that."
Weaver hopes so too.
"Just keep grinding, it'll turn around," Weaver said. "Just keep going out there and battling."
Despite the numbers, Scioscia likes what he has seen and believes Weaver will be back to pitching like an ace in the near future.
"I don't think he's that far from where we anticipate he'll end up."
William Boor is an associate reporter for MLB.com. This story was not subject to the approval of Major League Baseball or its clubs.