Kohn emerging as bullpen standout
Kohn emerging as bullpen standout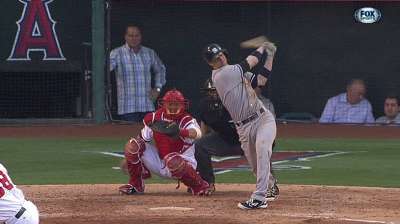 ANAHEIM -- While the Angels' offense has stolen the show for the past five games, the bullpen has fulfilled its obligation, allowing just two earned runs over its last 12 2/3 innings entering Tuesday.
Right-hander Michael Kohn is among those is the bullpen, but his string of success goes back even further. Kohn has held opponents scoreless in his last eight appearances and has allowed one run in his last 18 appearances -- a span of 13 2/3 innings, in which his ERA is 0.66.
"Obviously with [Sean] Burnett and [Ryan] Madson being hurt, everyone down there has had to step up," Kohn said. "Each guy has risen to the occasion."
Kohn believes the key to his success is simply throwing the first pitch in the strike zone.
"Strike one is huge here in the big leagues," Kohn said. "Just getting ahead of hitters as much as I can, attacking them, don't try to be too fine. Just attack the hitters and let my stuff play."
While that is always his approach, his execution has been nearly flawless.
In Kohn's 18-appearances hot streak, he has allowed just five hits while striking out 13. He has also lowered his ERA from 5.79 to 1.96.
William Boor is an associate reporter for MLB.com. This story was not subject to the approval of Major League Baseball or its clubs.