Pujols finally feels like the Albert of old
Pujols finally feels like the Albert of old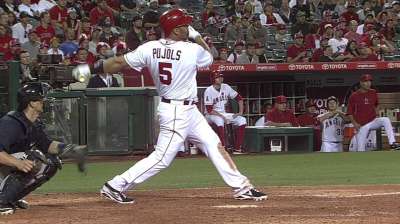 ANAHEIM -- It was Saturday, June 8 at Fenway Park, a little after 1:05 p.m. ET, when Albert Pujols believes he reverted back to the prolific hitter of his St. Louis days. It seemed so uneventful, a plate appearance against lefty Felix Doubront that resulted in a lineout to first base.
But Pujols swears he felt something.
"I was like ... this is me right here,'" Pujols said. "That did it. I feel right now like my old me, like when I was in St. Louis."
Did you ever feel that way last year?
"Not at all, man -- I swear," Pujols said. "There were some streaks here and there that I hit, but I was battling. I never got to a point where I could say, 'Holy cow, that's my bat speed.'"
Now, Pujols said, he can. And the numbers show it. Since that fateful plate appearance, he's 17-for-44 (.386) with three homers and nine RBIs, his batting average going from .243 to .266.
Prior to a game on June 5, Pujols made a slight adjustment at the plate, then hit a two-run, eighth-inning homer against Cubs reliever Carlos Villanueva that proved to be the difference in a 4-3 win. Immediately after that, Pujols approached Mike Trout.
"Head's up, dude," he told him. "I'm back now."
But it was four days later, in the first of a split doubleheader against the Red Sox, when Pujols says he "trusted" the slight mechanical adjustment, which he caught from watching videos of his Cardinals days.
"I trusted myself, like, 'OK, this is you, don't worry about the results, just take it with you," Pujols said. "I hit a home run the next day against [Ryan] Dempster [on June 9]. I made good contact in Boston. I didn't get that many hits, but I felt like I made good contact -- I hit some bullets. I did the same thing in Baltimore and I was like, 'OK,' and then I got my three hits against the Yankees [on June 14]. I'm going to stick with that approach that I had."
The adjustment has allowed Pujols' knee to feel a lot better. The ongoing plantar fasciitis on his left foot led to him putting too much pressure on his back side, which caused his surgically repaired right knee to swell up and would affect him at the plate. He isn't doing that anymore, and he's feeling like his old self -- perhaps for the first time since he joined the Angels.
"But I still feel like I can do a little bit better with it," Pujols said. "It's just part of making adjustments, and never feeling satisfied with what you do."
Alden Gonzalez is a reporter for MLB.com. Read his blog, Gonzo and "The Show", and follow him on Twitter @Alden_Gonzalez. This story was not subject to the approval of Major League Baseball or its clubs.