Shuck stands ready in reserve role
Shuck stands ready in reserve role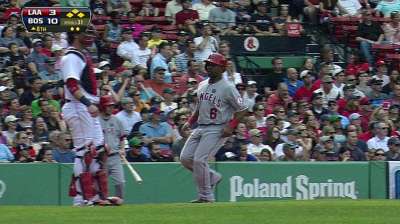 ANAHEIM -- When outfielder J.B. Shuck made the Angels' Opening Day roster, he knew exactly what his role as a backup outfielder consisted of.
What he couldn't have know was that center fielder Peter Bourjos would strain a hamstring, essentially turning Shuck into an everyday outfielder.
Shuck started the majority of the Angels' games -- including a stretch where he started 20 of 21 -- during Bourjos' absence, but has started just five games -- including Saturday's contest against the Pirates -- in the two weeks since Bourjos returned.
"In the beginning of the year, this is where I was, it's no different." Shuck said. "Being a fourth or fifth outfielder, you know that when somebody goes down you are going to be asked to play, so you've got to be ready for it.
"Then when they come back, you know you're going to go back to your role and you have to be ready for late inning defense, pinch running and pinch hitting."
And Shuck certainly has been good at that.
Shuck is 5-for-10 when entering the game as a late-inning replacement and is 6-for-17 (.353) as a pinch-hitter.
While Shuck -- and any other professional athlete -- would prefer to play every day, he accepts and understands his role. The 26-year old has seen his playing time fluctuate throughout the first half of the season, but his preparation and approach has remained a constant.
"You show up to the field ready to play," Shuck said. "If you're in the lineup, you get ready early. If not, you still get into the game. You watch what the pitcher is doing, watch what's going on and then later on, when it starts getting a little bit later, you really start to focus on getting loose, getting ready to hit."
William Boor is an associate reporter for MLB.com. This story was not subject to the approval of Major League Baseball or its clubs.