Bourjos hopes to return Wednesday
Bourjos hopes to return Wednesday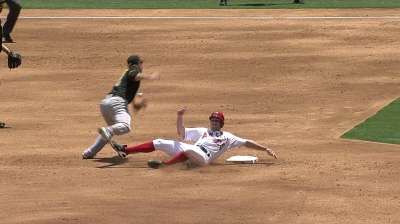 DETROIT -- Peter Bourjos' left thumb remains swollen, the result of an awkward slide into second base during Sunday's game, but the Angels' center fielder is hopeful of returning to the lineup on Wednesday.
Bourjos underwent an MRI in Southern California during Monday's off-day that revealed no structural damage and diagnosed him with only a contusion.
"I was really relieved," said Bourjos, who suffered the injury on a takeout slide in the second inning against the Pirates and subsequently left the game. "I was pretty nervous because when I woke up yesterday it was probably twice the size it is right now and it was black and blue down here, as well. And that's right where that ligament is that a lot of guys tear. So, I was kind of nervous going into it. Luckily, everything was OK."
Bourjos will receive treatment all of Tuesday and early Wednesday in hopes of starting. In the meantime, he's available off the bench as a pinch-runner and defensive replacement. Holding a bat will give him trouble until the swelling goes down, but Bourjos was elated to not have to return to the disabled list after missing 38 games with a strained hamstring.
"I'm pretty fortunate that it's only a bone bruise," he said.
Alden Gonzalez is a reporter for MLB.com. Read his blog, Gonzo and "The Show", and follow him on Twitter @Alden_Gonzalez. This story was not subject to the approval of Major League Baseball or its clubs.