Comfortable De La Rosa dealing since return
Comfortable De La Rosa dealing since return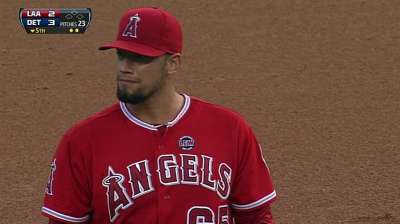 DETROIT -- Mike Scioscia can't quite pinpoint what exactly has been different about Dane De La Rosa since rejoining the team two weeks ago, but late Wednesday night, after the 6-foot-7 right-hander recorded six critical outs in a 7-4 win, the Angels' manager kept going back to the word "decisive."
"Certainly, I think he's feeling comfortable with his stuff and what he can do, and not trying to maybe create too much and just letting his stuff work -- and I think he's decisive out there," Scioscia said. "I think he's pitching with confidence now. Dane has too good of stuff not to have had this opportunity earlier in his career, to pitch and stay in the Major Leagues. And sometimes a player needs to find out what isn't working for him and make adjustments to find out what does work for him. But right now, he's throwing the ball as well as any reliever in our league."
In six appearances since being called back up from Triple-A, De La Rosa has given up one run in 8 2/3 innings, striking out nine and walking one to put his ERA at 3.31 in 35 1/3 innings this season.
This time of year, the 30-year-old De La Rosa said, he always reaches back for an extra gear.
"[Early on], you're still working on stuff, working out your kinks mechanically and all that stuff," De La Rosa said. "Now, you have everything settled and it's time to step it up a little bit."
Asked what gear he's in right now, De La Rosa said: "Like third."
How many does he have?
"Six," he responded.
This is De La Rosa's 11th season in pro ball, and he already has far more Major League time than he's ever had. The last two years with the Rays, he combined for all of 12 appearances in the Majors. And before that, he bounced around, from two years in the Yankees' system to four years of independent ball.
Nothing is guaranteed in this game, and De La Rosa knows that as well as anyone.
"So I'm just trying to do the best I can while I'm here," he said.
Alden Gonzalez is a reporter for MLB.com. Read his blog, Gonzo and "The Show", and follow him on Twitter @Alden_Gonzalez. This story was not subject to the approval of Major League Baseball or its clubs.