Bourjos headed to DL due to fractured right wrist
Bourjos headed to DL due to fractured right wrist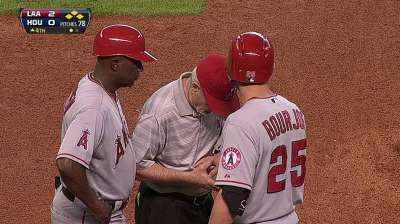 HOUSTON -- Injuries seem to be the only thing that can slow Peter Bourjos this season.
Unfortunately for the Angels, he can't seem to avoid them, as the center fielder is headed to the 15-day disabled list with a fracture in his right wrist that he suffered in the fourth inning of Saturday's 7-2 win against the Astros.
Bourjos said the injury is "non-displaced," meaning that he could theoretically play when the pain is manageable, but he is expected to miss at least two weeks.
"There'll be a DL time, and we'll see what the timeframe is," said Angels manager Mike Scioscia. "Early indications are that it might be a shorter stint than we'd imagine because of where the fracture is. We're following the lead of our medical staff every step of the way."
Bourjos was plunked in the wrist by Houston righty Jordan Lyles, and he immediately recoiled in pain before jogging down to first. The 26-year-old stayed in and advanced to third, but was removed before the bottom half of the inning.
Saturday marked his first start after missing four games due to a left thumb that he bruised against Pittsburgh on Sunday. It's an especially frustrating setback given Bourjos' outstanding work at the plate, on the bases and with his glove this season.
He's produced a .326/.385/.450 line in 129 at-bats, swiped four bases and gobbled up nearly everything in center field.
"No doubt, I think there's a little frustration from Peter, because this is the best baseball he's played in his life," Scioscia said. "He's seen enough of the league to get comfortable and he is ready to take off in a lot of areas, like stealing bases and hitting as a table setter.
"When your confidence is slowed like that, it's frustrating for anyone. I know Pete wants to be in the middle of what we're doing."
J.B Shuck, who filled in for Bourjos during the thumb injury, will take Bourjos' place in the lineup, and Mike Trout will be the everyday center fielder, Scioscia said. Trout wasn't in the lineup on Sunday, his first day off this season.
Shuck is hitting .389 with eight RBIs over his last 12 games, but said he isn't necessarily happy to be back in the lineup considering the circumstances.
"It's awful. He just got back off his thumb," Shuck said. "He's been having a great year when he's in there and it's unfortunate. Hopefully, it's not that bad and he'll be back sooner rather than later."
Bourjos has already been on the disabled list once this season, as he missed six weeks in May and June with a hamstring strain.
Chris Abshire is an associate reporter for MLB.com. This story was not subject to the approval of Major League Baseball or its clubs.