Pujols adjusting to life as everyday designated hitter
Pujols adjusting to life as everyday designated hitter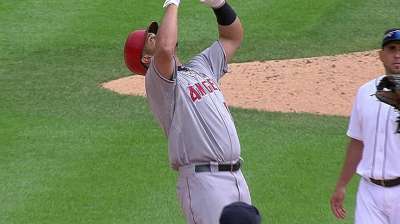 HOUSTON -- Angels designated hitter Albert Pujols is still getting used to that label before his name.
The longtime first baseman only saw action in the field four times during June as the team tries to let his lingering knee and foot issues heal.
Pujols said Sunday that he could play first regularly but would rather be able to be pain-free and in the lineup every day.
"It'd be really selfish for me to be out there in the field, even though I can move around pretty good, but I might be sore the next day and it would affect me," he said. "I try to not think about what I want. I can still help this club from the offensive side. I can go and play first all year. But is that the best for our ballclub? No. That's how I look at it."
Pujols said back-to-back days at first are the toughest for his various aches. He only played consecutive games at the position once in June.
"I feel good every time I play first," Pujols said. "It's two or three times in a row, putting a lot of torque in my heel. If I can, then I'll play. As long as I'm in the lineup, then I'm happy."
The extra rest hasn't necessarily helped during a down year at the plate.
At the halfway point of the season, the slugger is on pace for his lowest season totals in hits, home runs, runs scored, doubles and RBIs. His .249 batting average is more than 70 points below his career mark.
"His production has been definitely influenced by what's going on with his body," said Angels manager Mike Scioscia. "I think he's doing a remarkable job of still generating bat speed and being that fixture in the middle of the lineup.
"Is he the same player of three, four, five years ago?" Scioscia said. "He's not in that neighborhood right now, but he's still tremendously effective."
Pujols has also had to adjust to another unfamiliar sight: Teams have been pitching around Mike Trout to get to him, especially during a recent 3-for-30 slump.
"He's one of the best hitters in the game," Pujols said of Trout. "Wouldn't you do the same thing? It probably won't be the last time they do it, either. I'll get used to it."
Chris Abshire is an associate reporter for MLB.com. This story was not subject to the approval of Major League Baseball or its clubs.