Angels trying to cut down number of double plays
Angels trying to cut down number of double plays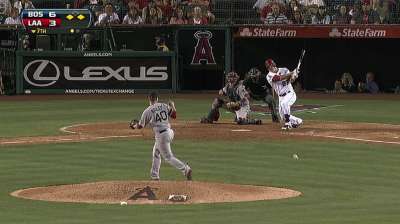 ANAHEIM -- Through 87 games, the Angels have grounded into a Major League-leading 90 double plays.
Although some double plays are inevitable and simply part of the game, manager Mike Scioscia knows 90 is too many.
"I definitely admit, there's not a comfort level with as many double plays as we are hitting into, it is high," Scioscia said.
Albert Pujols has hit into an American League-leading 17 double plays. Howie Kendrick is not far behind with 13, which is tied for third in the AL.
While it may not come as much of a surprise that Pujols, who is not running at 100 percent because of plantar fasciitis, has been doubled up a lot, it is surprising to see the speedy Mike Trout ground into double plays.
Trout's speed causes opponents fits whenever he is on the basepaths, but Trout has grounded into six double plays so far this season -- just one less than he hit into all of last year.
"We do have enough team speed that we should be able to minimize some of that," Scioscia said. "We haven't had some of the opportunities that would come up where you could put a guy in motion. We have some guys that have a lot of strikeouts in their game and it's tough to put guys in motion ahead of them, but I think the overall situation is really putting the ball in play and using your team speed to help you stay out of double plays, and we haven't done that as well as we could."
William Boor is an associate reporter for MLB.com. This story was not subject to the approval of Major League Baseball or its clubs.