Downs keeps getting it done
Downs keeps getting it done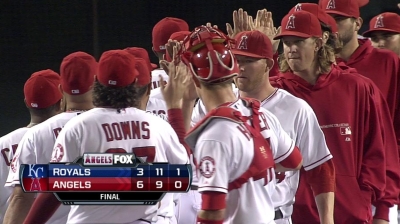 SEATTLE -- Angels manager Mike Scioscia has a good explanation for why lefty reliever Scott Downs keeps rolling along at the age of 37.
"He just knows what he's doing on the mound," Scioscia said.
Downs has been proving that again this year. Entering Friday's game against the Mariners, Downs was on pace for one of the finest seasons of his career. He had an ERA of 1.42 overall and had not allowed an earned run in 32 of his last 33 outings. Each of his last 24 appearances had been scoreless. Left-handed batters were hitting .178 against him.
"He's not going to beat himself," Scioscia said. "He really understands his stuff and especially understands in certain counts what he's trying to do, and I think where you see a dropoff in a pitchers' velocity from the time they're 28 or 29 until the time they're mid-30s, I think a pitcher like Scott, it has less of an effect on, because he still has the sinker, he still has the command, and he knows how to pitch.
"He's been able to continue to pitch at a high level, even pitching for so long."
Doug Miller is a reporter for MLB.com. This story was not subject to the approval of Major League Baseball or its clubs.