Wilson: 'We want the competition to be level'
Wilson: 'We want the competition to be level'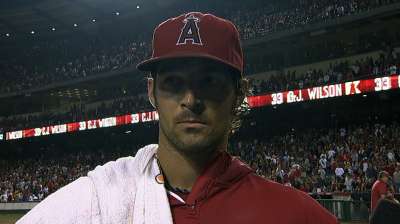 ANAHEIM -- C.J. Wilson, the Angels representative for the Major League Baseball Players Association, called it a "big downer" to see a former MVP like Ryan Braun get suspended for violating Major League Baseball's Joint Drug Prevention and Treatment Program.
But in no way did he defend his actions.
Players who cheat, Wilson said, "are taking something away from the other players."
"They're lying to the fans. They're lying to their teammates. They're lying to the GM, the owner, and they're going to get caught -- that's the whole point," the Angels' starter said. "We get drug tested all the time."
Wilson pointed out that one of his teammates was getting tested at that very moment. He believes that MLB has, for the most part, created a culture where cheating is not only difficult, but foolish.
"But there's always going to be one dummy that thinks he can get away with it," Wilson added. "Or, there's going to be a guy that accidentally takes something because he bought it over the counter. Ignorance is not a good policy, either. You can't plead ignorance. You have to be responsible. We're professional athletes. We're making enough money that we can take a step and look at something and say, 'You know what, I don't really know what this is. Maybe I should send it off.'"
Braun's saga stretches back to October 2011, when he was informed that a urine sample submitted after Game 1 of the Brewers' National League Division Series against the D-backs had tested positive for an elevated level of synthetic testosterone. Four months later, he became the first Major Leaguer to have a suspension overturned by an arbitration panel because his urine sample was not immediately shipped to the approved lab via FedEx.
Then, on Feb. 5, Braun joined Alex Rodriguez, Nelson Cruz and several others as players linked to Biogenesis, the defunct South Florida "wellness clinic" under investigation for allegedly supplying players with banned substances.
On Monday, Braun was suspended and will miss the Brewers' final 65 games, plus any potential postseason games, and will forfeit nearly $3.5 million in the process.
"As I have acknowledged in the past, I am not perfect," Braun said in a statement. "I realize now that I have made some mistakes. I am willing to accept the consequences of those actions."
Wilson isn't privy to the details of this investigation, but he believes that Braun is "the first domino to fall." The Angels' left-hander said that "the ultimate thing for [players], is we want the competition to be level" and admitted it's "frustrating to know that there are people that have played on performance-enhancing substances against us."
Alden Gonzalez is a reporter for MLB.com. Read his blog, Gonzo and "The Show", and follow him on Twitter @Alden_Gonzalez. This story was not subject to the approval of Major League Baseball or its clubs.