Burnett, Vargas toss light bullpen sessions
Burnett, Vargas toss light bullpen sessions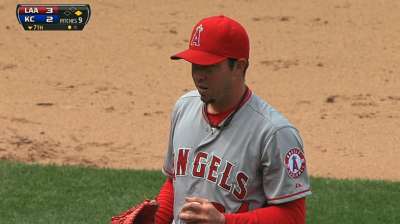 ANAHEIM -- Left-handers Jason Vargas and Sean Burnett still have hurdles to clear before they rejoin the Angels pitching staff, but they both felt strong after throwing bullpen sessions on Tuesday.
"They feel good," Angels manager Mike Scioscia said. "I think with Jason, it was a little more intense. He feels good with it, but there's going to be normal stiffness that he's going to feel. With Sean, it was really just touch and feel to get off the mound."
Although Burnett's session was light, the 30-year-old was encouraged.
"Felt pretty good," Burnett said. "It was just 20 pitches, but it was progress since I couldn't throw five or six the last time."
Burnett, who is on the the disabled list for the second time this season, will take a few days off before he throws another bullpen and then determine the best course of action to rejoin his teammates as soon as possible.
"I was just trying to get off the mound yesterday, not knowing if it was going to hurt or not," Burnett said. "Yesterday was a big step. Hopefully it feels like that every time out."
William Boor is an associate reporter for MLB.com. This story was not subject to the approval of Major League Baseball or its clubs.