Richards to replace Blanton for Saturday's start
Richards to replace Blanton for Saturday's start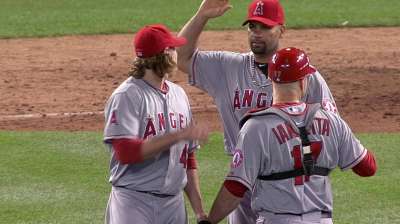 ANAHEIM -- Following Wednesday's 1-0 victory over the Twins, the Angels announced that Garrett Richards, not Joe Blanton, would start Saturday's game against Oakland.
Richards has not started a game since April 30 so it is a bit of a mystery as to how much stamina he has, but Blanton has struggled this season and it was only a matter of time before a change was made.
Richards has made four starts for the Angels this season and posted a 5.54 ERA.
Blanton is 2-13 with a 5.66 ERA on the season, but the month of July has been especially troublesome for the right-hander.
Blanton has given up 18 runs in 18 1/3 innings in July including four runs on nine hits in 3 2/3 innings in Monday's loss to Minnesota.
William Boor is an associate reporter for MLB.com. This story was not subject to the approval of Major League Baseball or its clubs.