Pujols determined to play through foot pain
Pujols determined to play through foot pain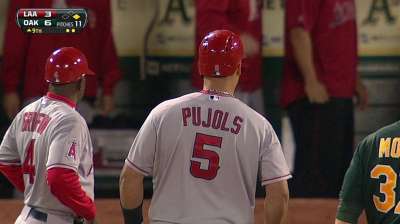 OAKLAND -- Albert Pujols was hopeful that the four-day All-Star break would ease some of the pain in his left foot, but though he's been hitting well ever since -- 11-for-29 going into Friday -- the plantar fasciitis is no better or no worse.
"It's been the same," Pujols said in Spanish. "I still feel some pain. I still feel it bothering me a bit. That's something that in the offseason, with time and with rest, hopefully the pain can go away."
Pujols has yet to decide whether he'll have the surgical procedure to treat plantar fasciitis, opting to wait until the season ends before making a final determination. What he has basically accepted, though, is that he'll be dealing with the ailment all year, confined mostly to designated hitter -- he's made 65 of his 99 starts there -- and doing the best he can to play through it for the next few months.
Pujols has dealt with spurts of plantar fasciitis dating back to 2003. But it's different now, because it hasn't gone away and because all those years of playing through it have caught up to him.
"That's how it is when you've been playing with something nine years," he said. "That's what the doctor told me. He said, 'Look, you've been nine or 10 years playing with this and it gets worse.' It's like if you have an injury in your arm and you keep throwing. What do you think? It's a long year, and it's going to catch up to you. That's what happens."
Alden Gonzalez is a reporter for MLB.com. Read his blog, Gonzo and "The Show", and follow him on Twitter @Alden_Gonzalez. This story was not subject to the approval of Major League Baseball or its clubs.