'Birdman' De La Rosa swoops in to help pigeon
'Birdman' De La Rosa swoops in to help pigeon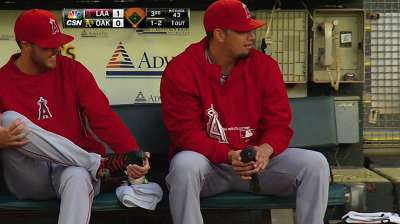 OAKLAND -- Angels reliever Dane De La Rosa -- or "Birdman," as he's been deemed in the last 24 hours -- will tell you he's no hero. Yes, as video that has since gone viral showed, he did corral a wounded pigeon during Thursday's game at O.co Coliseum and safely walk it to the player's parking lot.
But he was just trying to move the game along.
"It just was not trying to fly at all," said De La Rosa, who initially thought it was a rat. "I didn't want to cause a pitching delay in the outfield, so I just grabbed it. It was obviously trying to get somewhere."
De La Rosa's heroic act encompassed the entire Angels-Athletics highlight on ESPN's SportsCenter later that night and has flooded his Twitter account -- @Daner13 -- with more than 300 fans reaching out with questions, retweets and follows.
"Can you believe that?" he said. "My phone won't stop buzzing."
In the bottom of the third, De La Rosa found the pigeon walking underneath the bench in the bullpen, which is wide open and situated down the right-field line. He cupped it in his hands, waited for the frame to end, took it "as far as I can with cleats on," then "made sure to wash my hands and sanitize." And he named it Randy -- but not after Randy Johnson, who famously killed a dove with a fastball in Spring Training of 2001.
"He just looked like a Randy," said De La Rosa, who wound up pitching a scoreless eighth inning in the Angels' 8-3 victory.
Alden Gonzalez is a reporter for MLB.com. Read his blog, Gonzo and "The Show", and follow him on Twitter @Alden_Gonzalez. This story was not subject to the approval of Major League Baseball or its clubs.