Iannetta sliding into platoon with Conger
Iannetta sliding into platoon with Conger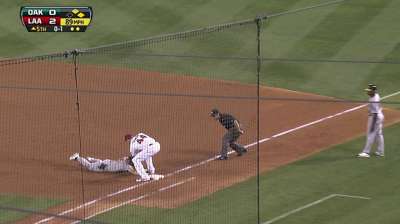 OAKLAND -- Back in October, Chris Iannetta signed a three-year, $15.55 million extension to be the Angels' everyday catcher. But by the end of Friday, he and Hank Conger -- 25 years old, homegrown and with plenty of upside -- will have split time right down the middle over the past 36 games.
It makes you wonder what Iannetta's long-term future holds with the Angels.
"That's going to take care of itself," Iannetta said. "All those things are out of my control. The only thing I can control is playing well. If I play well, then everything else will take care of itself."
Iannetta will admit he hasn't played well, but he'll point to his production at the plate -- where he's hitting .210 but has posted a .349 on-base percentage thanks to 46 walks -- as the biggest reason he's started only nine of the Angels' 19 games this month.
"If I were still contributing offensively, I'd still be playing," Iannetta said Friday after being held out of the lineup for a second straight day. "Hank's playing great, and he's doing a great offensive job for us right now, and that's what we need. We need that position to help the team out."
But Iannetta's on-base percentage is 41 points higher than that of Conger, who has nonetheless batted .250 and slugged .447 (compared to Iannetta's .338). The 30-year-old's most troubling numbers seem to come on defense. Iannetta has allowed six passed balls (fourth-most among American League catchers), has committed five errors (tied for second-most) and has thrown out six of 65 stolen-base attempts, giving him a .092 caught-stealing percentage that's by far the lowest among qualifiers.
Conger, meanwhile, has thrown out 39 percent (12-for-31).
As Iannetta noted, shutting down a running game "is a three-part play," where the pitcher also has to be quick to the plate and the infielder needs to make a good tag. Asked how he feels his defense has been this season, Iannetta said: "I went through a stretch where I wasn't happy with it for a little bit, but as of late, I've been right where I want to be."
Not good enough to avoid a platoon, though.
"You can look at it two ways -- is Chris losing time or is it Hank gaining time?" Angels manager Mike Scioscia said. "I think Hank has gained more playing time with the level he's played at. Chris has still gotten plenty of playing time, and he will continue to play because we're going to need him."
Alden Gonzalez is a reporter for MLB.com. Read his blog, Gonzo and "The Show", and follow him on Twitter @Alden_Gonzalez. This story was not subject to the approval of Major League Baseball or its clubs.