Pujols leaves club to have ailing foot examined
Pujols leaves club to have ailing foot examined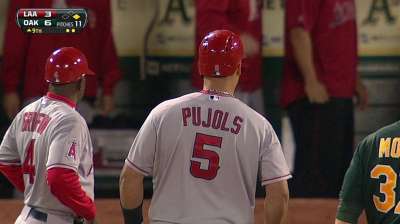 OAKLAND -- Albert Pujols was out of the Angels' lineup and back in Southern California for Saturday's game against the Athletics, having his nagging left foot evaluated after aggravating it during Friday night's ninth-inning at-bat.
Asked if Pujols' absence will extend longer than a day, Angels manager Mike Scioscia said: "We'll see."
In Pujols' place, Mike Trout batted third for the first time in his career, and he may spend at least a few more days there.
"It's sorer than anything he's dealt with or he's been playing through," Scioscia said of Pujols. "We'll just see what happens."
The Angels hadn't received results of Pujols' MRI as of late Saturday afternoon, but outfielder Kole Calhoun was boarding a flight to Oakland to join the Angels because Pujols was likely to be placed on the disabled list. Calhoun, already on the 40-man roster, was batting .354 with 12 homers in Triple-A, and .583 over his last 10 games.
Pujols has been dealing with plantar fasciitis in his left foot all season, but until now, it had been manageable. The 33-year-old right-handed slugger had started 65 of his 99 games at designated hitter and found a way to produce despite obvious pain, posting a .258/.330/.437 slash line with 17 homers and 64 RBIs.
Pujols has gone 12-for-34 with a couple of homers since the four-day All-Star break, but he said prior to Friday's game that the foot feels "the same," adding: "I still feel some pain. I still feel it bothering me a bit. That's something that in the offseason, with time and with rest, hopefully the pain can go away."
Then, with two outs in the ninth inning against Grant Balfour, Pujols ripped a liner down the left-field line to plate two runs, but he got only a single out of it and signaled towards the dugout to be replaced by a pinch-runner.
Plantar fasciitis manifests when the ligament that supports the arch of the foot is strained, causing pain when walking or standing. Pujols has dealt with spurts of the ailment for most of his career, but it's been prolonged and severely worse in 2013.
A common occurrence among athletes dealing with plantar fasciitis is that the inflamed ligament snaps, which eases the tension and eliminates the need for surgery. But that also sidelines them for a while, and for Pujols, a snapped ligament could potentially end his season.
The Angels will wait on word from team doctors before taking the next step.
"He's the foundation of your lineup and you want to build around him," Scioscia said of Pujols. "We'll shift Mike into the three-hole and see where Albert is."
Scioscia has long considered Trout an ideal No. 3 hitter long term, despite the fact he has game-changing speed and has spent the majority of his professional career in the leadoff spot. Trout batted leadoff during an historic rookie season in 2012 and has spent most of 2013 batting second, taking advantage of more opportunities with runners on base and posting a .324/.400/.564 slash line in 100 games.
Asked if he sees himself as a top-of-the-order hitter or a middle-of-the-order hitter, Trout said: "I don't know. Last year, my job was to be a leadoff hitter, and I'm just going to keep the same approach I've been having in the two-spot. I've been getting more opportunities to drive in more runs anyway in the two-spot and just look at it as an opportunity to drive in some more runs."
Alden Gonzalez is a reporter for MLB.com. Read his blog, Gonzo and "The Show", and follow him on Twitter @Alden_Gonzalez. This story was not subject to the approval of Major League Baseball or its clubs.