Angels 'committed to winning,' not giving up on season
Angels 'committed to winning,' not giving up on season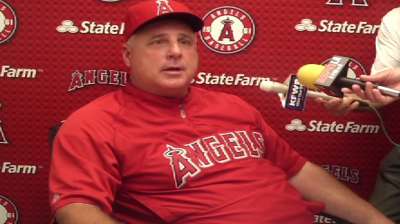 ARLINGTON -- The outside perception is that the Angels -- fresh off trading veteran reliever Scott Downs for a Minor League pitcher and perhaps looking to strike other similar deals -- are waving the proverbial white flag on their 2013 season.
Really, though, they're just embracing reality.
"You try and make moves that set you up for the best chance at success now and in the foreseeable future, as well," Angels first baseman Mark Trumbo said. "I'm sure there's a lot of thought to what is done. I don't think anybody has given up on this season, although it doesn't look extremely promising if you were to take a snapshot of where we are right now. But there are a lot of motivated dudes in here. Although the record doesn't reflect it, I think everybody here is committed to winning."
The Angels entered Monday's series opener at Rangers Ballpark 13 games out of first place and seven games below .500, in need of a miracle run just to stay relevant and likely without Albert Pujols (partial tear in the left plantar fascia) for the remainder of the season.
But two months is still a lot of time.
"As players, we don't feel like that's it," closer Ernesto Frieri said. "We still have a good team here. We know Downs was having a great year, but we believe the guys in here are capable of doing the job."
Angels general manager Jerry Dipoto was busy working the phones throughout Monday, with plenty of teams calling to gauge his interest in trading away position players.
The Angels will continue to listen. They need cost-controlled starting pitching, they aren't expected to have much payroll flexibility to sign big-time free agents in the offseason and they realize their best trade assets reside in their lineup.
And for the next two days [before the Trade Deadline], the players will try to block that out from their clubhouse.
"Nothing like that's talked about," Angels manager Mike Scioscia said. "From our perspective on the field, we're out here to win a game tonight as we always do. We know we have some holes on our team, but we also know there are a lot of things we can do well on the field, and that's where our energy is going to be."
Alden Gonzalez is a reporter for MLB.com. Read his blog, Gonzo and "The Show", and follow him on Twitter @Alden_Gonzalez. This story was not subject to the approval of Major League Baseball or its clubs.