Shuck shrugs off silent treatment after first HR
Shuck shrugs off silent treatment after first HR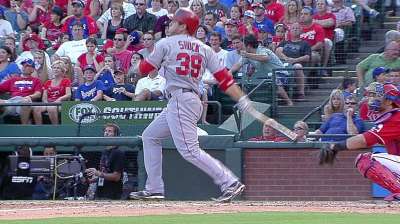 ARLINGTON -- J.B. Shuck has an interesting way of countering the silent treatment: just congratulate yourself.
When Shuck walked into the dugout in the fifth inning at Rangers Ballpark on Monday night, he was met with indifference from his Angels teammates, who pretended like he hadn't just gone deep for the first time in his career. So instead, Shuck went down the row and handed out imaginary high-fives before finally getting embraced.
"It seemed like everybody was going about their business," Shuck said, "so I just figured I'd get my own high-fives and see what happens."
Shuck's solo homer to right field off Rangers starter Matt Garza was his first in 357 career plate appearances. The left-handed-hitting outfielder became the first American League player to hit his first career home run after 110 or more games (he did it in Game No. 115) since the Angels' very own Alberto Callaspo in 2009, then with the Royals.
But that wasn't the only coincidence that came with it.
Garza was the guy who appeared to serve up Shuck's first career home run on June 5 at Angel Stadium, when the right-hander was still with the Cubs. Shuck hit one over the fence in right field and umpires initially ruled it a homer, but then they went to replay, learned that it had barely gone foul and overturned it.
"Honestly, it's the last thing I ever worry about," the slap-hitting Shuck said of hitting home runs. "It's not a part of my game. If I get one, I get one. If not, I won't lose sleep over it."
Alden Gonzalez is a reporter for MLB.com. Read his blog, Gonzo and "The Show", and follow him on Twitter @Alden_Gonzalez. This story was not subject to the approval of Major League Baseball or its clubs.