Scioscia hoping discipline helps keep game clean
Scioscia hoping discipline helps keep game clean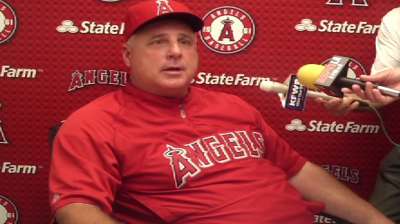 ANAHEIM -- Just like the rest of the baseball community, the Angels are aware that suspensions related to the Biogenesis clinic are likely to be issued in the coming days.
However, manager Mike Scioscia does not anticipate any news regarding his club and hopes the punishments help keep the game clean.
"You're interested in it, and we hope it has no bearing on our club and we don't anticipate anything," Scioscia said. "It continues to be a black eye for baseball and I think the sooner a resolution can come, if any suspensions are handed down, get them started and get it behind players and baseball."
Scioscia said he is unsure if stiffer penalties would keep performance-enhancing drugs out of the game but believes the responsibility is on the players.
Regardless of what it takes to get there, Scioscia, like many others, simply wants players to do it the right way.
"I would hope that eventually players understand that the hard work and sweat is what builds a ballplayer," Scioscia said. "If you're not happy with being the best player you can on hard work and sweat, then you're not going to get the opportunity to play the game if you are on some performance-enhancing drugs."
William Boor is an associate reporter for MLB.com. This story was not subject to the approval of Major League Baseball or its clubs.