Bourjos returns from DL; Field sent to Triple-A
Bourjos returns from DL; Field sent to Triple-A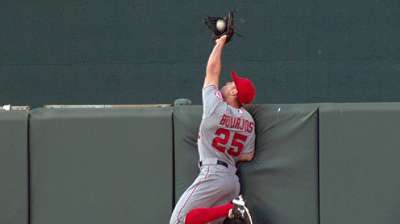 ANAHEIM -- A familiar face has made his way back into the Angels' starting lineup.
Prior to the series opener against the Astros, Peter Bourjos was activated from the disabled list and Tommy Field was optioned to Triple-A Salt Lake.
Bourjos, who will bat ninth and play center field Friday night, is hitting .333 with a .392 on-base percentage this season but has been limited to 40 games.
"It's been a frustrating two years to say the least," Bourjos said. "Going back to last year and not playing a lot and then this year, having an opportunity to play and being hurt because of it."
Bourjos has spent time on the DL with a strained hamstring and most recently with a fractured right wrist.
The center fielder said there is still some occasional pain, but he does not believe his swing -- or any other part of his game -- will be limited.
"It's still sore on some days, just depends on the day, but it's definitely a lot better than it was a week or two weeks ago," Bourjos said.
If the pain remains throughout the offseason, surgery is a possibility, but Bourjos does not anticipate that being necessary.
Angels manager Mike Scioscia acknowledged how valuable Bourjos is to the team.
"When you start putting all the spokes of the wheel together and you have it assembled and you start to take out spokes here and there, there's going to be a tipping at some time," Scioscia said. "We've struggled with keeping all those spokes on the wheel and Peter's an important spoke."
William Boor is an associate reporter for MLB.com. This story was not subject to the approval of Major League Baseball or its clubs.