Scioscia supports case for team record in MVP talks
Scioscia supports case for team record in MVP talks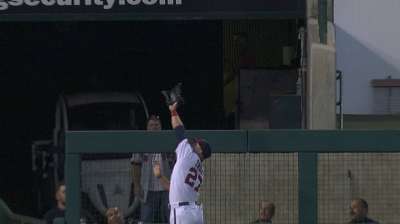 ANAHEIM -- Once again, talks about the American League Most Valuable Player Award are swirling around Angels star Mike Trout and Tigers slugger Miguel Cabrera.
Entering Saturday, Trout was hitting .330 with 21 home runs, 78 RBIs and a 1.000 OPS.
Although the 22-year-old's numbers are certainly worthy of keeping him in the MVP discussion, Trout's case will likely suffer because of the Angels' disappointing record, and manager Mike Scioscia has no problem with that line of thinking. In fact, he agrees with it.
"When guys are that close, I think it makes sense to lean on what they contributed to a team," Scioscia said. "Was it a team in a winning environment with the pressure, or was it a team that was out of it where the contributions maybe weren't felt as much?"
Scioscia went on to say that unless a player is "heads and tails above everybody on a statistical analysis," contributing for a contender should be an important factor in award selections and that it has helped the Angels in the past.
The Angels entered Saturday 13 games under .500 and 15 1/2 games back in the AL West. Scioscia added that it's important to focus on the numbers Cabrera has posted through 114 games (.358 average, 38 home runs, 115 RBIs).
"Cabrera is having an incredible year," Scioscia said. "He's earning it, too. If he ends up the frontrunner, it's because he's having an incredible year and his team's winning."
William Boor is an associate reporter for MLB.com. This story was not subject to the approval of Major League Baseball or its clubs.