Eligible to come off DL, Kendrick not yet activated
Eligible to come off DL, Kendrick not yet activated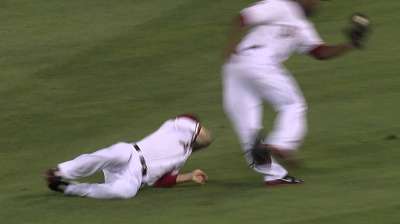 ANAHEIM -- Howie Kendrick, who is nursing a hyperextended left knee, was eligible to come off of the disabled list Wednesday, but the Angels did not activate him prior to the game.
"He's making progress, [he's] just still trying to get over a little bit of residual soreness," Angels manager Mike Scioscia said.
Kendrick has been working out and doing baseball activities, but still needs "a little more time" before he is ready to play second base on a consistent basis.
"He plays a position where you need to move, you need range," Scioscia said. "Even if he was just DH-ing, you have to be able to run at a certain pace, and we want to make sure that he gets there before we're putting him out there and make sure he can do what he needs to do before we put him out there."
William Boor is an associate reporter for MLB.com. This story was not subject to the approval of Major League Baseball or its clubs.