Trout out of lineup for third straight contest
Trout out of lineup for third straight contest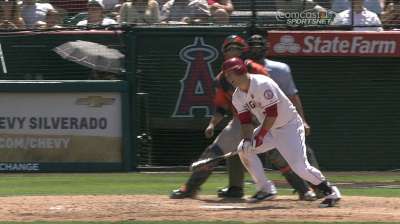 ANAHEIM -- Angels superstar Mike Trout left Sunday's game with tightness in his right hamstring and hasn't been in the lineup since.
Trout did not start on Wednesday and won't play again until his condition improves a bit more.
"He's getting therapy," Angels manager Mike Scioscia said. "I don't know if he's made enough progress to come out here and run the bases, but we definitely have to get him out there and make sure he can move the way he needs to before he can play."
Trout did some agility drills on Tuesday, but he has yet to run.
William Boor is an associate reporter for MLB.com. This story was not subject to the approval of Major League Baseball or its clubs.