New callup Rasmus traded day before wedding
New callup Rasmus traded day before wedding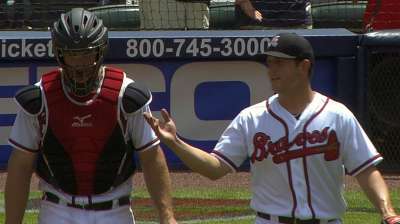 SEATTLE -- When Cory Rasmus was shipped from the Braves to the Angels on July 29, his first reaction was the initial shock of being traded for the first time in his career. Then it was the logistics: when he was going to fly out, what he needed to pack and where he was going to live for the rest of the summer.
Then, shortly after that, it hit him: he was supposed to get married the next day.
"I was just kind of like, 'OK, I don't know what I have to do, I don't know where I need to be," Rasmus said Friday from Seattle, after the Angels called him up from Triple-A Salt Lake. "And so [Angels general manager Jerry Dipoto] called me, I talked to him for five, 10 minutes, and I went in and told my wife now, and was like, 'Hey, I just got traded. You still want to do this thing tomorrow?' She said, 'If you can, we'll go ahead and do it.'"
Rasmus called Dipoto back, got his flight moved back a few hours, got married by the court in Gwinnett, Ga. -- site of the Braves' Triple-A affiliate -- in the morning and flew to Salt Lake City, Utah, shortly thereafter to join his new organization's Minor League system.
Rasmus' brother is Blue Jays center fielder Colby Rasmus. His wife's name is Jillian Mathis, sister of longtime Angels catcher Jeff Mathis. They've been dating for a couple of years, and this offseason the two will have a party to celebrate their nuptials with family and friends -- giving Rasmus a chance to make up for lost time.
"I didn't get to hang out with her that whole day," Rasmus said of his July 30 wedding day. "I got married that morning, left that afternoon."
Rasmus, who was acquired in a one-for-one deal for veteran lefty reliever and pending free agent Scott Downs, was taken with the 38th overall pick in 2006. He came up as a starter, sustained a severe injury to his collarbone early in 2011, missed the rest of that season and came back at the start of 2012 as a reliever.
Rasmus -- who still has a starter's repertoire, throwing up to five pitches -- had a 3.68 ERA in 50 appearances in Double-A that season, then had a breakout year of sorts in Triple-A this year, posting a 1.72 ERA in 36 2/3 innings and saving 14 games.
"Coming into 2012 was kind of almost a rebuilding year for myself, trying to learn myself, trying to learn how to throw again," said Rasmus, who gave up six runs in 6 2/3 innings with the Major League Braves earlier this year. "I started off the season a little shaky, but over the years, my mechanics have gotten a little more consistent. I've been able to be more consistent."
Alden Gonzalez is a reporter for MLB.com. Read his blog, Gonzo and "The Show", and follow him on Twitter @Alden_Gonzalez. This story was not subject to the approval of Major League Baseball or its clubs.