Scioscia says he and GM Dipoto are 'in line'
Scioscia says he and GM Dipoto are 'in line'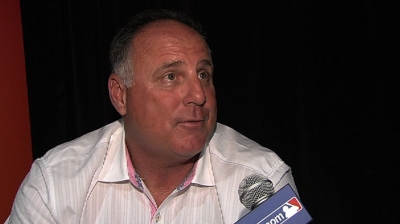 SEATTLE -- Angels manager Mike Scioscia said there are "no philosophical differences" between him and general manager Jerry Dipoto. The longtime skipper admits he was upset over the dismissal of hitting coach and longtime friend Mickey Hatcher last May, but he said he's moved on and added that whatever disagreements go on with Dipoto are "healthy."
"Jerry and I are certainly, as far as our baseball philosophies, in line," Scioscia said. "The one thing that I publicly disagreed with Jerry about, and we've talked about it, too, is when he let Mickey go. And that's been it. Everything else is just baseball talk. There's a lot of chatter out there. But there's no foundation to it. Our philosophies are right in line with anything that we've ever done here."
The sentiment around the organization is that Angels owner Arte Moreno will dismiss either Dipoto or Scioscia at the end of the season -- though Moreno himself didn't go into specifics when asked about that by MLB.com during last week's Owners' Meetings in Cooperstown, N.Y.
Scioscia (signed through 2018) and Dipoto (tied to an entire front-office team) would each be difficult to replace. But the Angels are on their way to a fourth consecutive postseason absence -- not to mention a potential 90-loss season -- and sources have said Dipoto and Scioscia haven't really meshed since Dipoto came on board in November 2011, as reports by CBSSports.com and FOXSports.com stated.
Scioscia, however, said the two have "a normal general manager-manager relationship."
"A manager and a GM, a manager and his coaching staff, a GM and his assistant GMs, you're not going to agree on everything," Scioscia said. "That's healthy. You have to have conversation. ... You have to throw it on the table, see if it has merit, talk about it, peel the paint off it, and I feel that that's happening. You're not going to get a manager and a GM that are going to have the same evaluation on every single player, and the same exact thoughts on every situation. That's just impossible."
Alden Gonzalez is a reporter for MLB.com. Read his blog, Gonzo and "The Show", and follow him on Twitter @Alden_Gonzalez. This story was not subject to the approval of Major League Baseball or its clubs.