Angels have opportunity to evaluate young players
Angels have opportunity to evaluate young players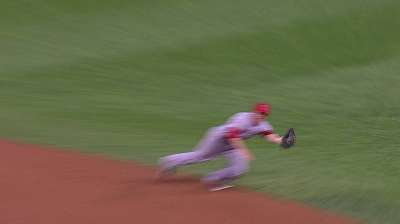 SEATTLE -- The rare, positive byproduct of a losing season is the opportunity to evaluate.
The Angels -- 57-71 and 17 1/2 games out of first heading into Sunday's series finale at Safeco Field -- can essentially use these final five weeks to get a real sense for which of their young, unproven players can be counted on in 2014.
On a team with a payroll so top-heavy -- where Albert Pujols, Josh Hamilton, Jered Weaver and C.J. Wilson absorb a vast majority of the funds -- it's crucial to get production from guys in the service-time range of zero to three years, particularly with Ernesto Frieri, Mark Trumbo and Peter Bourjos eligible for arbitration for the first time this offseason.
With raw and athletic infielder Grant Green, acquired from the A's for Alberto Callaspo, the Angels can gauge how expendable second baseman Howie Kendrick truly is. With Chris Nelson, picked up off waivers, they can see how much emphasis needs to be placed on third base. And with Cory Rasmus, acquired from the Braves for Scott Downs, they hope to find a reliable bullpen weapon.
"Sometimes it's important to see what a player can't do as opposed to seeing what they can do," Angels manager Mike Scioscia said. "When guys are out there playing in the Major Leagues, no matter what the situation is, you should be able to get a read on them to see how their skill set plays and evaluate where they need to be in your future plans. A lot of these young guys are getting a chance. They're going to continue to get a chance to see what they can do."
In that regard, the 2013 season has provided a couple of positives: J.B. Shuck and Garrett Richards.
Shuck is less than 400 plate appearances into his rookie season, but he's proven to be a scrappy contact hitter while making an outside case for the American League Rookie of the Year Award, with a .292 batting average and .331 on-base percentage. His production could give the Angels' front office some flexibility with their outfield this offseason.
And in Richards, who has a 2.75 ERA in six starts since taking Joe Blanton's spot in the rotation, the Angels may finally have what they most covet -- a young, effective, cost-controlled starting pitcher.
"I've learned different things as I've gone along," Richards said recently, "and I'm starting to put stuff together and feeling more comfortable in my delivery, more consistent, which is something I've really been working towards."
Alden Gonzalez is a reporter for MLB.com. Read his blog, Gonzo and "The Show", and follow him on Twitter @Alden_Gonzalez. This story was not subject to the approval of Major League Baseball or its clubs.