Butcher finally seeing rotation reach potential
Butcher finally seeing rotation reach potential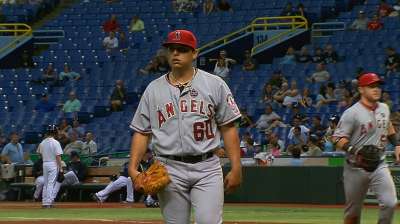 MILWAUKEE -- The Angels' pitching-dominated road trip can't help but conjure "what if" feelings. More specifically, what if Jered Weaver hadn't missed more than seven weeks because of a broken left (non-pitching) elbow, or if Jason Vargas hadn't been on the shelf for nearly two months with a blood clot in his left armpit area?
Together, they accounted for about 18 missed starts for a rotation that had depth issues to begin with.
"That's a lot," Angels pitching coach Mike Butcher said. "You lose 18 games from guys who can go out there and win ballgames for you. That's a lot. I think the biggest issue is overall health. When guys can go out there and they're healthy, it gives you a chance to go out there and compete, get deeper into games. When a starter can get deeper into a game, the bullpen's a little more well-rested and they perform at a higher level, as well."
It's a little too late at this point, but the Angels have nonetheless felt the benefits of a rotation composed of Weaver, Vargas, C.J. Wilson and Garrett Richards, who has stepped up in his third chance as a starter. Heading into Saturday, Angels pitchers had held opponents scoreless for a combined 22 innings and had posted a 1.60 ERA in the first seven games of this road trip. Dating back to Aug. 20, the starters have posted a 1.91 ERA while the relievers have a 1.59 mark.
Still, the Angels rank 27th in the Majors in ERA (4.34).
"I think that's a fair stat," Butcher said. "You still have to go out there, you still have to make pitches, you have to compete. It's part of the game. Injuries are part of the game. But when you're losing two guys that are part of your rotation, it obviously impacts you on some level."
Alden Gonzalez is a reporter for MLB.com. Read his blog, Gonzo and "The Show", and follow him on Twitter @Alden_Gonzalez. This story was not subject to the approval of Major League Baseball or its clubs.