Kohn's return from TJ surgery has few peers
Kohn's return from TJ surgery has few peers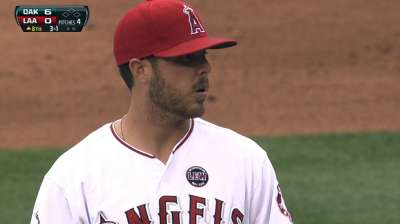 ANAHEIM -- Michael Kohn hasn't just come back from Tommy John surgery -- he's kicked its butt.
Kohn underwent the procedure on April 12, 2012, and, "As soon as I had the surgery," he recalled thinking, "I was like, 'Am I ever going to throw again?'" When Spring Training came, his realistic goal was to simply make it back to the Majors by the All-Star break.
Heading into Friday's series opener against the Rangers, Kohn had accumulated 54 appearances out of the Angels' bullpen and shown no signs of slowing down.
He has a 3.28 ERA and a 1.18 WHIP, has struck out 8.7 batters per nine innings, is throwing his fastball an average speed of 94.1 mph -- it was 93.3 in 2011 -- and, thanks to a changeup he can now throw effectively to righties, he's notched nine consecutive scoreless appearances.
"Everyone always says the process is so long and so hard -- and it is hard," Kohn said. "... But I felt like mine just completely flew by. I think it's because I didn't have any big hurdles. I just kept going. I was like, 'OK, bring on what's next.'"
Modern medicine has a good grasp on the human elbow, but Tommy John surgery is nowhere near as foolproof and fast as Kohn has made it out to me. Look no further than Ryan Madson, who had his surgery one day earlier than Kohn and couldn't come back in 2013.
In some ways, Kohn is one of the lucky ones.
Dr. James Andrews has known Kohn for a long time. He knew he wasn't a pitcher until just before he got drafted, and when he went in for an MRI exam in early April 2012, he realized Kohn -- then two months removed from his 25th birthday -- had been playing with a torn ulnar collateral ligament in his elbow for nine years.
That prompted Andrews to take a far more aggressive approach with Kohn. He replaced his elbow ligament with his hamstring tendon, which is a lot thicker than the tendon that's most commonly used in the procedure -- and he'd take a very aggressive approach with his rehab.
Said Kohn: "I left everything in his hands."
Less than four months after surgery, Kohn began tossing a tennis ball 15 feet.
At the 7 1/2-month mark, he was hitting 92 mph with his fastball.
At eight months, he was certain he could pitch in a game.
And by the time he reported for Spring Training in mid-February, he had already thrown 33 bullpen sessions.
All along, Kohn had a giant daily planner sitting on the desk of his Camden, S.C., home. Filled out in ballpoint pen for each day were the exercises and throwing schedules he'd be doing with Hunter Bowie, a trainer for Rehabilitation Centers of Charleston in Kohn's home state.
"And every hurdle I just kept crossing off," he said.
Sure, there were obstacles along the way. There were times, as Angels reliever Scott Downs warned him, that he wouldn't have any idea what his arm was doing as he drove towards home plate. It happened in Spring Training, when Kohn posted an 8.44 ERA in 5 1/3 innings and was forced to start the season at Triple-A Salt Lake.
Five Minor League appearances later, though, Kohn was in the big leagues -- and he hasn't looked back.
"I was amazed," Kohn said. "I was like, 'This can't be this good?' Eventually, I'm going to have a setback. It's going to catch up. And it didn't."
Alden Gonzalez is a reporter for MLB.com. Read his blog, Gonzo and "The Show", and follow him on Twitter @Alden_Gonzalez. This story was not subject to the approval of Major League Baseball or its clubs.