Season-ending wrist surgery likely for Bourjos
Season-ending wrist surgery likely for Bourjos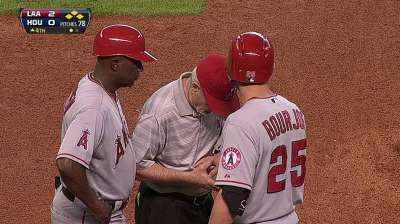 ANAHEIM -- In his pursuit to recapture the groove he was in before injuries began to derail him in April, Peter Bourjos was hopeful of playing through a fractured right wrist. The crack was relatively small, and over time, he hoped, it would get better, eventually allowing him to hit without pain and, before the end of 2013, recapture the success he was having at the plate.
That never happened. And now, the invasive surgery he was hoping to avoid -- the type that would come with an eight-week recovery and end his season -- is "likely," the Angels' center fielder said Saturday.
"I don't feel like I can do what I do at the plate," Bourjos finally admitted. "The strength isn't there. I'm not able to take the swing I want to without pain. I can take a bad swing without pain. That's not very productive."
Bourjos batted .313 with a .370 on-base percentage in his first 22 games. Then he strained his left hamstring during the 19-inning game in Oakland on April 29 and missed six weeks. He returned June 10, played in 13 games, hurt his left thumb while sliding into second base, didn't start for a week, returned to the lineup June 29, and then, in the top of the fourth at Minute Maid Park, got drilled in the right wrist by a Lucas Harrell fastball and missed seven more weeks.
"I told Pete earlier, 'Did you break a mirror or something, or did a black cat run across you that you don't remember?'" Angels manager Mike Scioscia said. "He's had such a tough run of just bad luck here."
After an eight-game rehab stint, Bourjos returned to the Angels' lineup on Aug. 16 with the expectation of playing through pain the rest of the year. Then he posted a .109/.163/.152 slash line in 15 games, and over the past nine games, he started only twice.
Bourjos recently had an X-ray taken of his right wrist, and the image was nearly identical to the one he saw in Houston exactly 10 weeks ago.
"It's not worse, it's just not better," Bourjos said. "I have to load up on pills to get it to be manageable."
The surgery, which likely will be performed by Dr. Steven Shin early next week, would pin the bone back to the ligament. Bourjos is hopeful of still being able to pinch-run or come in as a defensive replacement during the last three weeks of the season, but Scioscia said that won't be necessary.
The talented 26-year-old will likely see his season end at 55 games -- one year after being relegated to the bench for most of the season.
"Pretty frustrating," Bourjos said. "From the time I initially got hit, it was always an option that they may have to go in there and fix it. And I was really hoping to avoid that, be able to finish off the year and finish it strong, continue where I left off. It was pretty evident when I went on my rehab assignment that it was going to be pretty tough. It bothered me when I was swinging, didn't feel like I could have good bat speed and make consistent contact. I was trying to get through it and it just hasn't really happened the way I expected it to."
Alden Gonzalez is a reporter for MLB.com. Read his blog, Gonzo and "The Show", and follow him on Twitter @Alden_Gonzalez. This story was not subject to the approval of Major League Baseball or its clubs.