Multi-inning saves no sweat for durable Frieri
Multi-inning saves no sweat for durable Frieri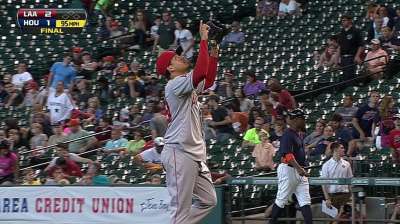 OAKLAND -- Ernesto Frieri has become a master of the multi-inning save, whether or not his manager likes it.
The Angels closer has converted seven, including a six-out save against the Astros on Sunday. That easily leads the Majors, with the Cardinals' Edward Mujica second with four and four others -- Koji Uehara of the Red Sox, Sergio Romo of the Giants, Joaquin Benoit of the Tigers and Brett Anderson of the A's -- tied with three entering Wednesday's play.
In those situations, Frieri has given up two runs (one earned) in 11 innings, struck out 19 and walked six.
"I'm still fighting for this opportunity, to solidify myself as the closer," Frieri, who has 34 saves, said in Spanish. "I want to show myself that I can be better than even I think I am. At the same time, it helps me get more confidence from the manager and the pitching coach. Something that allows me to go more than one inning is all the hard work I put in every year. I have a very healthy arm, which I'm very thankful for."
Angels manager Mike Scioscia has often said his preference is to not use Frieri for more than one inning, but he's open to doing it when needed because he knows Frieri's arm can handle the work.
On Sunday, Frieri gave up one hit and struck out four to preserve a one-run game against the Astros. On Sept. 1, he pitched 1 2/3 perfect innings, striking out four of five batters, to maintain a two-run lead at Miller Park. In May, he converted four multi-inning saves -- including two on consecutive days -- in wins over the Astros, A's and White Sox. And on April 14, in a three-run game against Houston, Frieri recorded four outs on strikeouts and gave up one hit.
The 28-year-old right-hander benefited from pitching multiple innings on several occasions with the Padres and has an arm that rarely tires.
But the key is being honest with himself.
"I know when I can and when I can't," said Frieri, who has given up one run in his last 16 2/3 innings and has a 3.68 ERA this year. "My career is very short still. I want to pitch for many years. And to do that, I need to take care of my arm. I know that my arm is very healthy and I work hard to keep it healthy.
"And although they've used me many times for multiple innings, they've also given me the rest I need. That's what's important. I'm very grateful for the way they've used me. I can't ask for a better opportunity than this."
Alden Gonzalez is a reporter for MLB.com. Read his blog, Gonzo and "The Show", and follow him on Twitter @Alden_Gonzalez. This story was not subject to the approval of Major League Baseball or its clubs.