Green won't see game action at third this season
Green won't see game action at third this season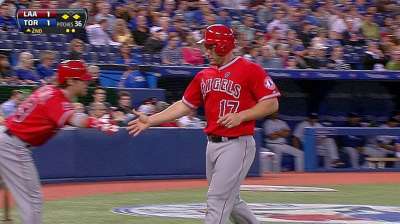 OAKLAND -- Grant Green's exposure to third base at the Major League level will have to wait until at least next season.
Green, facing the team that drafted him four years ago, started at second base for the Angels on Wednesday, but isn't expected to get much more time there now that Howie Kendrick is back from the disabled list. And third base -- a position the Angels wanted Green to get accustomed to with Alberto Callaspo now in Oakland -- is too much of a work in progress for him to see any game action there.
"I don't think it'd be fair just to throw him out there," Angels manager Mike Scioscia said. "This guy has played virtually no third base; virtually none. He's played very little second base."
Green, the 13th overall pick by the A's in the 2009 First-Year Player Draft, spent his first full season in the pros at shortstop, split time between shortstop and center field in 2011, got ample time at five positions in '12 -- center field, left field, shortstop, third base and second base -- and has mostly played second base in '13.
Upon being acquired by the Angels on July 30, Green spent a week in Triple-A working with roving infield instructor Omar Vizquel at third -- a position he's played on only 11 of his 475 career Minor League games. Then Kendrick got hurt and Green came up to play second base regularly, posting a .292/.352/.398 slash line, but playing inconsistent defense.
Green's still working at third sparingly, but Scioscia would like to see the young infielder get more of a grasp on second before focusing on the hot corner.
"There are things that he's moved forward with [at second base], and there are a lot of things that he's still working on improving," Scioscia said. "This guy's working hard. He was out here [Tuesday]; he and [infield coach] Alfredo [Griffin] must've turned a hundred double plays working on stuff. I think that's all part of the process -- getting him comfortable at one position, trying to get him proficient and slowly introducing another position where maybe he's going to show some versatility. But I don't think it's fair to Grant right now."
Alden Gonzalez is a reporter for MLB.com. Read his blog, Gonzo and "The Show", and follow him on Twitter @Alden_Gonzalez. This story was not subject to the approval of Major League Baseball or its clubs.