Shoemaker makes most of first look with Angels
Shoemaker makes most of first look with Angels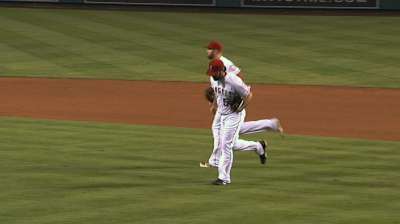 ANAHEIM -- Matt Shoemaker's Major League debut was a day old, but the smile and excitement had yet to leave the face of the 26-year-old right-hander.
"The adrenaline is flowing," Shoemaker said a day after he pitched five scoreless innings against the Mariners. "More than ecstatic to be here."
When ace Jered Weaver was scratched from Friday's start with right forearm tightness, the Angels opted to give the opportunity to Shoemaker -- an undrafted free agent who signed with the organization in 2008.
And with his wife, mom, dad, sister, uncle, cousin and some friends in the stands, Shoemaker shut down the Mariners while allowing just two hits and striking out five.
"He looked really poised out there," catcher Hank Conger said. "He was comfortable through five innings and was able to hold his own out there."
Shoemaker may have appeared calm and poised to onlookers, but he admitted he was full of nervous energy.
"Adrenaline kicked in throughout the day," Shoemaker said. "About an hour before game time is when adrenaline, nerves and all that was kicking in full go."
Although Shoemaker knew the nerves were going to be unavoidable, he was able to relax a bit when Weaver and pitching coach Mike Butcher reminded him that despite the stage, it was just another baseball game.
Once Shoemaker struck out Dustin Ackley to begin the game, he began to realize that it was indeed just that.
From there, he settled in and enjoyed a night in which he fulfilled a lifelong dream.
Shoemaker now has his sights on a bigger goal.
"My goal as a little kid was to play in the Major Leagues," Shoemaker said. "Now my goal slowly turns into 'I want to make a career out of the Major Leagues.' That's just my continual goal -- get better every day and learn something new for myself."
William Boor is an associate reporter for MLB.com. This story was not subject to the approval of Major League Baseball or its clubs.