David Eckstein interested in bigger role with Angels
David Eckstein interested in bigger role with Angels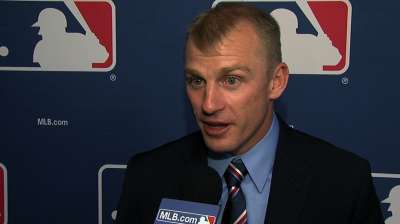 ANAHEIM -- When David Eckstein retired as a player, his main focus was to be there for his wife, Ashley, and her startup business, HerUniverse.com. But now that business -- a clothing line for female sci-fi fans -- is entering its fourth year and flourishing. And David wants to be more involved as a coach.
One very likely scenario is to join his brother Rick, who was recently hired to be the Angels' Major League player information coach, and take on a bigger role in the organization he came up with.
"He definitely wants to get more involved," Rick said of David, two years his junior, helping out with the Angels in some capacity.
"His desire and commitment level is starting to ramp up a little bit. He's talked with the Angels, they've expressed interest in him, so we'll see what the future holds for him. ... He's just waiting for that dialogue with him and the club to come together and to form that agreement as to what exactly they want and what exactly he can provide."
David spent the first four seasons of his 10-year Major League career with the Angels, starring on their improbable World Series championship team in 2002. The 38-year-old has a home in Florida, but spends a lot of his time at his condo in the Newport Beach, Calif., area, and has served as a guest instructor in Spring Training the last couple of years.
It's unclear what kind of role the Angels would envision for David, who Rick said has received interest from "multiple teams." But Omar Vizquel left his post as roving infield instructor to become the Tigers' first-base coach, and bringing on David would fit in with the club's recent trend of hiring notable alumni.
Earlier this offseason, the Angels brought back former Most Valuable Player Don Baylor as their hitting coach and ex-shortstop Gary DiSarcina as their third-base coach.
"He's been offered, and he's stayed committed to his wife and what she's doing with her business, HerUniverse.com, and doing all that they're doing with that," Rick said in a phone conversation. "But now his baseball-coaching side is really starting to ramp up, and he's excited to be doing more stuff for the Angels. But he's turned down other jobs from other organizations. He's just waiting for the right time and the right process, so to speak, to get involved, and I think this is getting real close to him."
Alden Gonzalez is a reporter for MLB.com. Read his blog, Gonzo and "The Show", and follow him on Twitter @Alden_Gonzalez. This story was not subject to the approval of Major League Baseball or its clubs.