Trout still sorting through play at the plate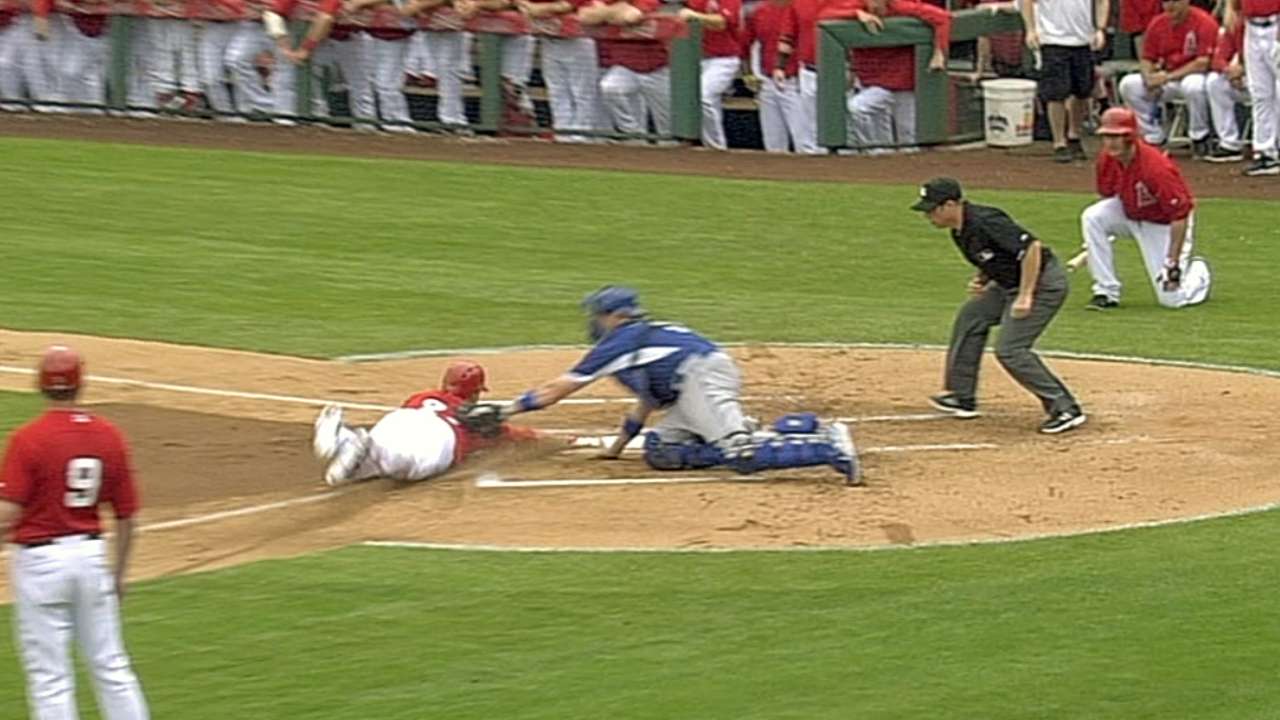 TEMPE, Ariz. -- On Friday, one day after a controversial play at home plate -- where expanded replay and baseball's new rule governing collisions converged -- center fielder Mike Trout still couldn't figure it all out.
In the first inning of Thursday's game, Trout almost had an inside-the-park home run, but home-plate umpire Rob Drake ruled that the tag from Dodgers catcher A.J. Ellis beat him.
Manager Mike Scioscia argued that Ellis had violated Rule 7.13 by getting in the runner's path without having the ball. Scioscia didn't have to burn a challenge because umpires can review the new rule at their own discretion, but they were also able to see if Trout was safe or out -- and the call was upheld.
Trout was wondering if it's OK for the catcher to block the runner's path if he doesn't yet have the ball but is attempting to field the throw, which he feels Ellis did to catch Hanley Ramirez's relay.
"If he's standing there giving me a lane, and the ball's coming, what if he tries to catch it and blocks the lane?" Trout said. "Honestly, I don't know the rules right now. I'm told to go in sliding. But then I've heard that if he's in the way, I can run into him, but I can't run into him by leading with the shoulder."
The Angels are expected to meet with Major League Baseball within the next week or so to sort through that play and other elements of the two new rules.
Trout is among many players, coaches and umpires who are still unclear.
"I've got to do my homework," he said. "I don't know."
Alden Gonzalez is a reporter for MLB.com. Read his blog, Gonzo and "The Show", and follow him on Twitter @Alden_Gonzalez. This story was not subject to the approval of Major League Baseball or its clubs.