Green working on proficiency at third base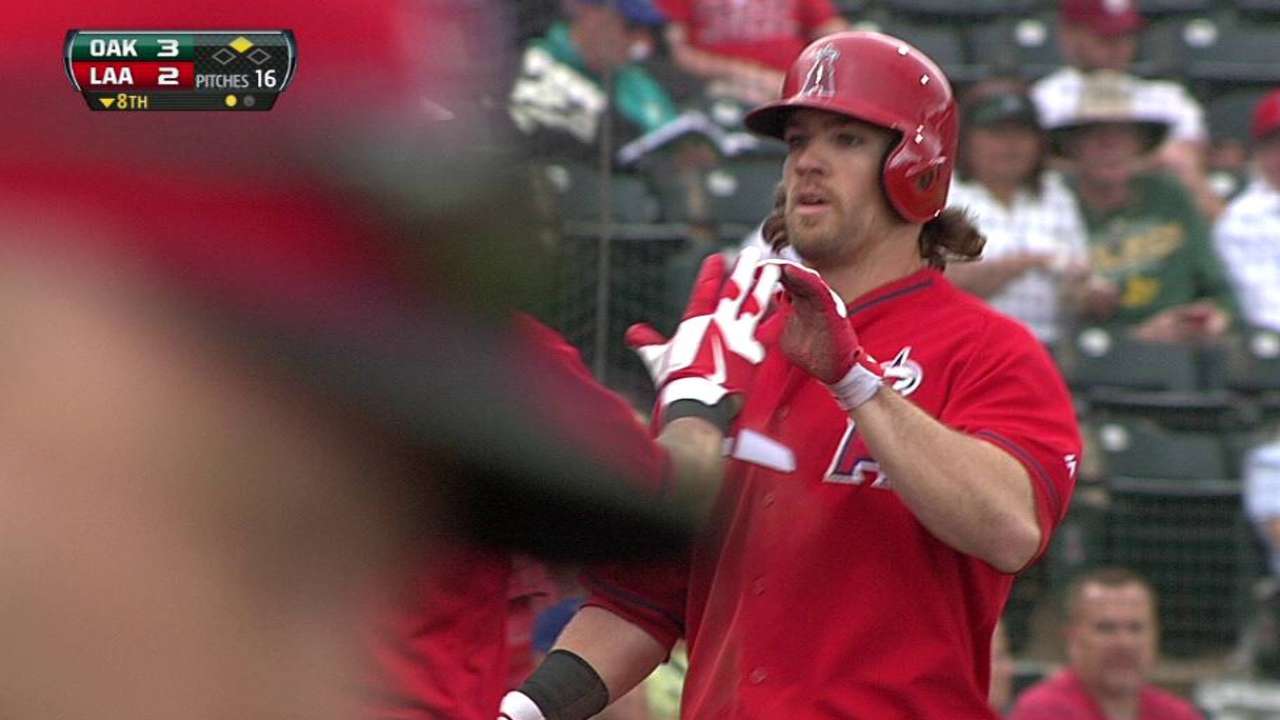 TEMPE, Ariz. -- Grant Green enjoyed a successful debut with the Angels late last season but, barring an injury, knows a utility role is his only way to crack the Angels' Opening Day roster.
There is plenty of competition for that spot, and Green must show he has the desired versatility.
Green is most comfortable at second base, where he played 40 games for the Angels last year after he was acquired from the A's for Alberto Callaspo. Green came up as a shortstop and treats the position like second nature.
How Green, known more for his bat than glove, handles his opportunities at third base may ultimately determine whether he starts the year in Anaheim or Triple-A Salt Lake.
"If you're not comfortable over there and they're not comfortable with you, you're not going to be the guy," Green said Saturday. "That's just something that all the guys fighting for it have to be comfortable with. The one they feel the most comfortable with is the guy who's going to be in the spot."
Howie Kendrick, Erick Aybar and newcomer David Freese are the starters at second, shortstop and third.
Green is competing with Andrew Romine and non-roster invitee John McDonald. Both are considered better defenders, whereas Green holds an advantage with his bat.
"Howie and E and Freese all have their spots locked down, and rightfully so," Green said. "So this is the only spot open. So it's go for that or wait your time in Triple-A, which no one really wants to do."
Green, the 26-year-old former first-round pick, hit .280 with one home run and 16 RBIs last year for the Angels.
He paid close attention to the offseason trade rumors involving Kendrick, who also was reportedly shopped at last year's Trade Deadline. Nothing happened and Green is left to fight for a bench role.
"It's something we talked about last year, his ability to play the left side," manager Mike Scioscia said. "He's been working very hard down on the lower fields with Alfredo [Griffin], Rick Eckstein and Keith Johnson. All those guys are working with him at shortstop and getting him acclimated to third base. It's going to be important for him to have that versatility."
Green, who was hitting .429 with four doubles in 14 at-bats through Friday's Cactus League action, has played twice at short and once at third this spring. Green committed a fielding error at third Friday.
"Short felt fine. At third, I'm just getting back into it," Green said. "I didn't really have a good game on either side of the ball. I don't have anything good to say about that. It was my first time over there in spring, so I'm going to be a little rusty.
"I've been working at both [positions] during workouts but you only get a certain amount of game-time experience during the spring. Yeah, I wish I had more just because of the way [Friday] went. It's just more and more game-time reps and getting used to throwing from that side of the diamond. It's something I have to get used to again. You can only do so much practice; you have to get those game-time reps. It's definitely something we'll be working on through the whole spring."
Chris Gabel is a contributor to MLB.com. This story was not subject to the approval of Major League Baseball or its clubs.