New offseason routine has Romine ready to compete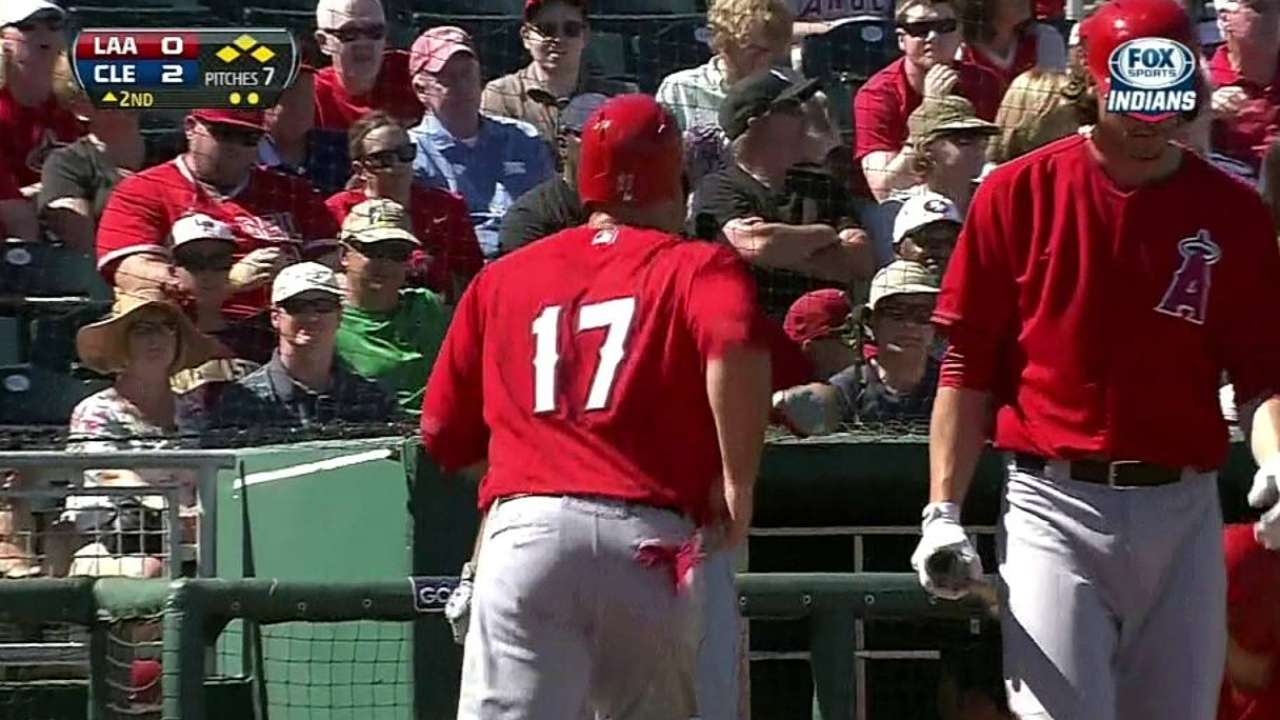 GOODYEAR, Ariz. -- Andrew Romine had just completed the 2013 season, was headed into the offseason of his first out-of-options year and knew he needed to bulk up.
And so, while on a flight with his wife, Kathryn, who just so happens to be a fitness trainer and nutritionist, the two mapped out a workout regimen and diet that would ultimately add 20 pounds of lean body mass to Romine's frame, putting the 6-foot-1 infielder at 200 pounds by the time he arrived for Spring Training.
"She did the shopping," Romine said, "because I knew I wouldn't buy the healthy stuff."
Romine is a prime candidate to win the Angels' utility-infield job for a second straight year, and he is hoping it turns out different this time around.
Last spring, he looked like the clear favorite with Maicer Izturis agreeing to a three-year contract with the Blue Jays the previous winter. But he reached base only four times in 25 plate appearances in the first month, then spent the next three-and-a-half months in Triple-A Salt Lake, and he only played semi-regularly in September because the Angels had nobody else to man third base.
This offseason, Romine lifted weights from the start and ate five full meals a day -- which isn't all that fun when everything you eat is healthy.
"A lot of people don't realize that because it's such a long season, we're breaking down throughout the whole season," Romine said. "It's nearly impossible to build strength during the season, so it's basically come in and try to maintain where you're at. So I was thinking if I came in heavier and a little bit stronger, then I can maintain."
Romine, who walked three times and drove in two runs in Monday's 8-3 win over the Indians, finds himself in a head-to-head battle with veteran John McDonald -- though Grant Green may loom as a dark-horse candidate if he can handle shortstop and third base.
McDonald, 39, has the experience of succeeding as a backup for many years and may have a slight edge defensively. Romine's edge comes from his speed -- one he doesn't feel he's lost despite the added weight.
"There's really no point in worrying about it," Romine said of his standing with the team. "I can think about it all I want, but that's not going to change anything. They make their decisions in their meeting rooms based off how I perform, so basically all I can do is go out and perform."
Alden Gonzalez is a reporter for MLB.com. Read his blog, Gonzo and "The Show", and follow him on Twitter @Alden_Gonzalez. This story was not subject to the approval of Major League Baseball or its clubs.