Long trying to be this spring's Shuck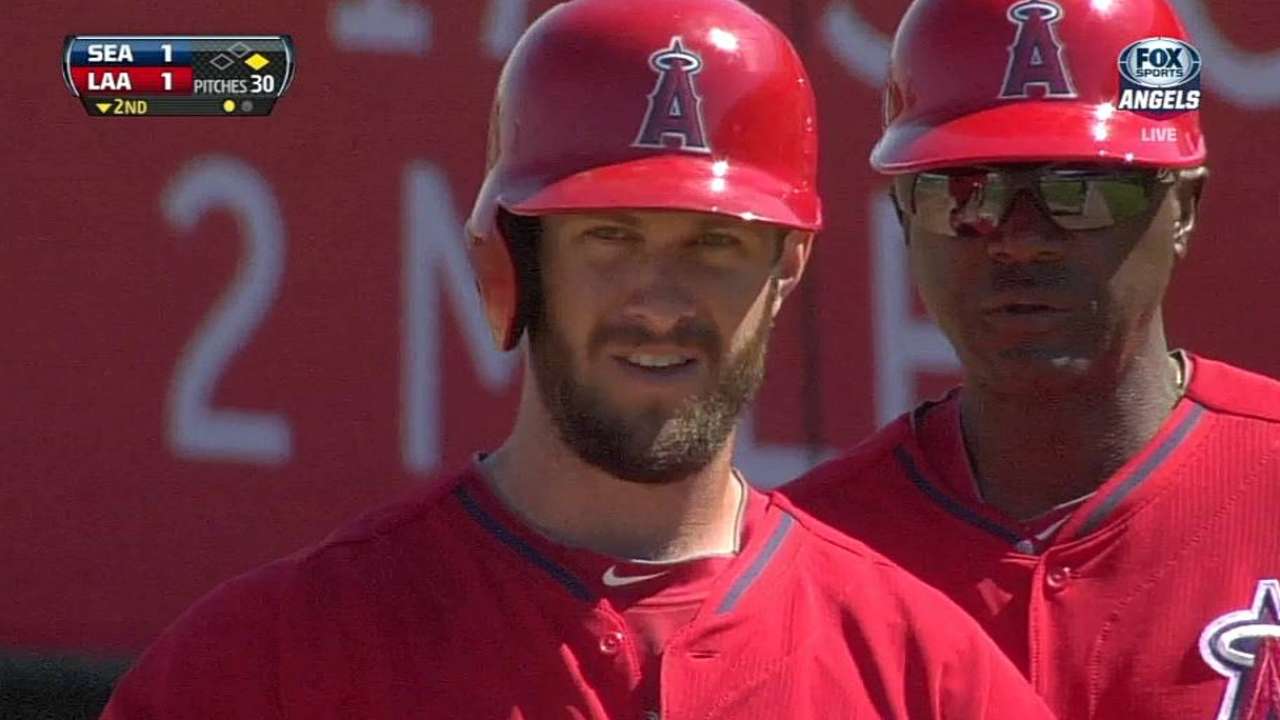 TEMPE, Ariz. -- Last spring, there was a short, scrappy, left-handed-hitting outfielder who wasn't on anybody's prospects lists, looked like a career Minor Leaguer, and then came out of nowhere to win a job off the Angels' bench with a blistering spring.
So this spring, Matt Long is trying to pull a J.B. Shuck.
If you haven't really heard of him, you're not alone. Long played four years at Santa Clara University in the Bay Area, wasn't drafted until the 30th round in 2009, and has spent his five-year pro career as somewhat of an afterthought in an Angels system that isn't deep with prospects.
But Long has hit at every level, is extremely versatile, and is having a great spring, with 13 hits in 24 at-bats.
"I just wanted to come in and play like I had a chance of winning a spot; whether I do or I don't, that's not up to me," Long said Tuesday morning, one day after going 4-for-5 and hours before going 3-for-4. "You have to control what you can control, and I'm trying to do that right now."
To win a spot as a backup outfielder, Long will have to beat out Collin Cowgill, who has played in 147 Major League games the last three years; Brennan Boesch, who played regularly with the Tigers from 2010-12; and Shuck, who came out of nowhere to post a .293 batting average while leading all American League rookies in plate appearances last season.
But Long has hit at every level, batting .305/.382/.446 in 2010, .299/.378/.502 in 2011, .282/.350/.462 in 2012 and .293/.371/.471 in 2013. He's shown some speed, compiling 100 stolen bases in that four-year span. He's got a little bit of power, averaging 15 homers the last three seasons. And, most intriguing of all, he's very versatile, with the ability to handle all three outfield positions and second base, which he picked up rather quickly in 2012.
"Maybe I don't do any one thing exceptionally well, but I like to say I have a pretty well-rounded game," Long said.
"That versatility is exciting," Angels manager Mike Scioscia said. "It definitely helps his prospects of making our team."
Alden Gonzalez is a reporter for MLB.com. Read his blog, Gonzo and "The Show", and follow him on Twitter @Alden_Gonzalez. This story was not subject to the approval of Major League Baseball or its clubs.