Mulder, released by Halos, not giving up yet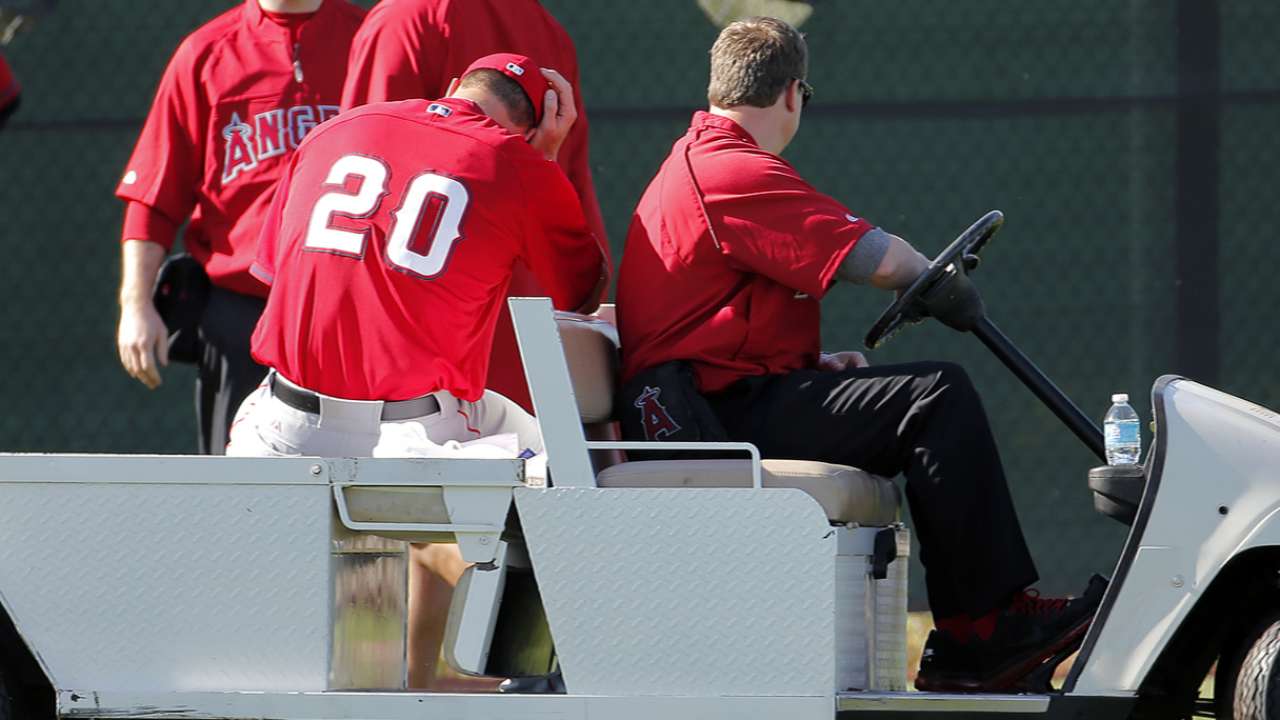 TEMPE, Ariz. -- The Angels released Mark Mulder on Tuesday, a transactional formality given his season-ending Achilles injury that, if nothing else, officially ended the 36-year-old left-hander's 2014 campaign.
Mulder's comeback hopes, however, are still alive and well.
"Barring a setback, or me not being able to pitch with my ankle for some reason, I don't see why not," Mulder said in a phone conversation. "My arm's still going to be the same next year."
The arm, the one that underwent two debilitating shoulder surgeries and forced him to retire in 2008, was what Mulder thought would fail him as he attempted a near-unprecedented comeback this offseason. The fact that it actually felt better than it has since his Oakland days 10 years ago, and that it was a fluky leg ailment that shut him down, makes Mulder want to give it another shot.
"Yes is the simple answer," Mulder said, "but until I see how this all bounces back and how I feel and stuff like that, it's impossible for me to answer it. I have no idea when I would even be able to start throwing. From what I understand, everybody's rehab timeline is kind of different on this."
Since rupturing his left Achilles tendon on Feb. 15, minutes before he would throw a bullpen session in front of Angels coaches for the first time, Mulder has spent his days sequestered in his Scottsdale, Ariz., living room, keeping his left leg elevated and counting down the days until the next minor hurdle.
"I realized that daytime TV is absolutely terrible," Mulder said. "I can't wait for Thursdays to come, where at least golf will come on during the day."
He can't wait until March 19, when he ditches the hard cast he's had for six days and puts on a second one exactly like it.
Then he'll anticipate April 3, when he gets fitted for a protective boot.
Then he'll count down every 10 days, as they gradually remove heel inserts until Mulder's foot finally goes back to being at 90 degrees.
And then, when he starts to walk again -- perhaps as soon as late May -- the rehab process will begin in earnest.
This past fall, Mulder found a delivery that worked for him, impressed in a late-November throwing session, signed a Minor League deal with the Angels, pushed his arm to new limits shortly after the new year began and entered Spring Training feeling like a return to the Majors was actually a real possibility.
He figures he'd give the Angels priority to sign him again, "but it's way too early to even consider something like that," the two-time All-Star said.
"My concern is it's now another year where I'm not facing hitters," Mulder added. "I'm not in that game situation. I don't know how I'll approach it, whether I might make a few starts at winter ball -- I really have no idea. But I do feel that as soon as I'm capable and ready, I would like to find a way to get into games somehow."
Alden Gonzalez is a reporter for MLB.com. Read his blog, Gonzo and "The Show", and follow him on Twitter @Alden_Gonzalez. This story was not subject to the approval of Major League Baseball or its clubs.