Umpires to be tighter with transfer rule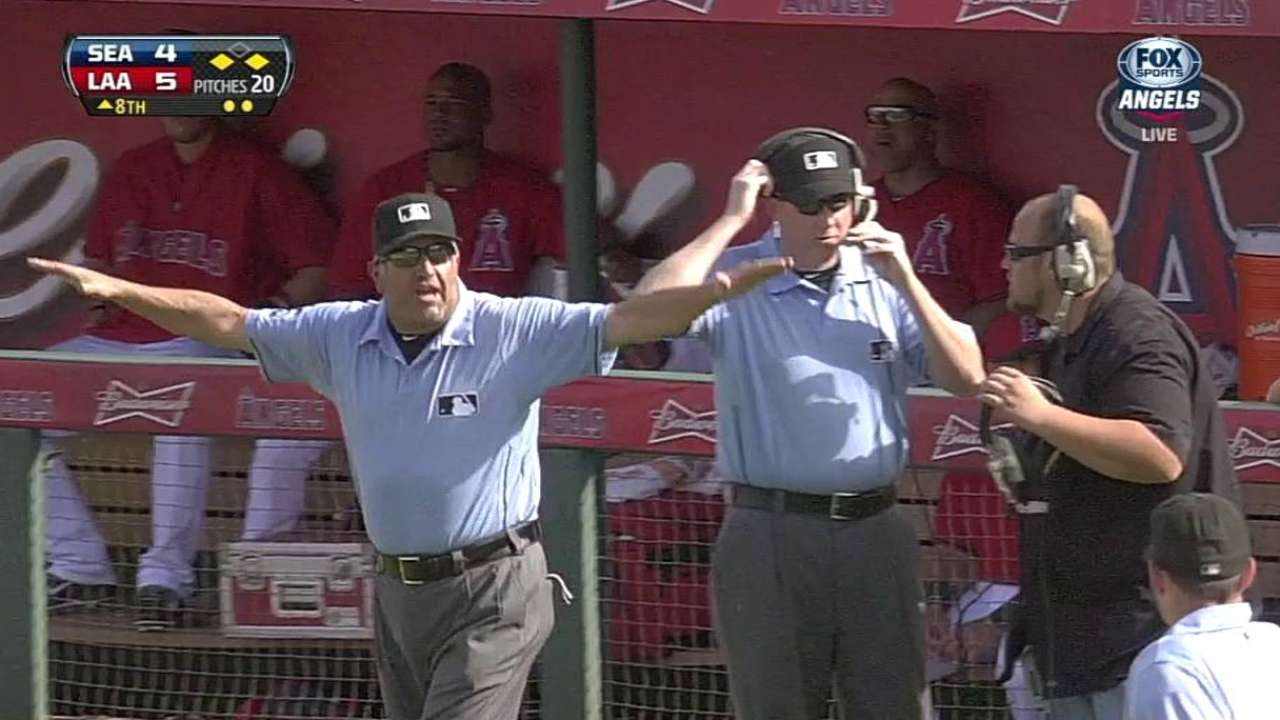 TEMPE, Ariz. -- Tuesday's overturned call -- the first ever under the expanded-replay rules -- introduced Angels manager Mike Scioscia to a new wrinkle, one in which umpires will be more strict than ever on the transfer call.
With one out in the eighth, Andrew Romine recorded a force out at second base before bobbling a potential double-play ball. But Mariners skipper Lloyd McClendon challenged the call by second-base umpire Chad Whitson, and the review reversed it to an out.
After the game, Scioscia spent about 15 minutes talking with umpires, particularly crew chief Dale Scott, and got word that the ball must be completely out of the glove and in the bare hand before the bobble in order for it to be ruled an out.
"The way it was called on [Romine] yesterday has never been called that tight in 40 years of baseball," Scioscia said. "I mean, the ball was clearly closed by his glove when it was coming out to be flipped. That's always been a guideline for a transfer beginning."
The tricky part about the way that rule is enforced now, Scioscia said, is that "there's more leeway in the neighborhood call now as far as an infielder being on the bag on a good throw, but they're tighter on the transfer. If that balances into maybe more time to get to the ball, we'll see. I don't know."
More stringent enforcement of the rule will no doubt lead to middle infielders being more cognizant of securing the ball when turning double plays. But John McDonald, who has some of the quickest hands in baseball, doesn't think it should change the mechanics of the play.
"You still have to turn the double play," McDonald said. "You have to get it out of your glove. You don't really catch it. You deflect it into your bare hand. ... When you catch things in slow motion, everything looks easy. Unfortunately that's what this is coming to."
Alden Gonzalez is a reporter for MLB.com. Read his blog, Gonzo and "The Show", and follow him on Twitter @Alden_Gonzalez. This story was not subject to the approval of Major League Baseball or its clubs.