Trout looking to pounce early at plate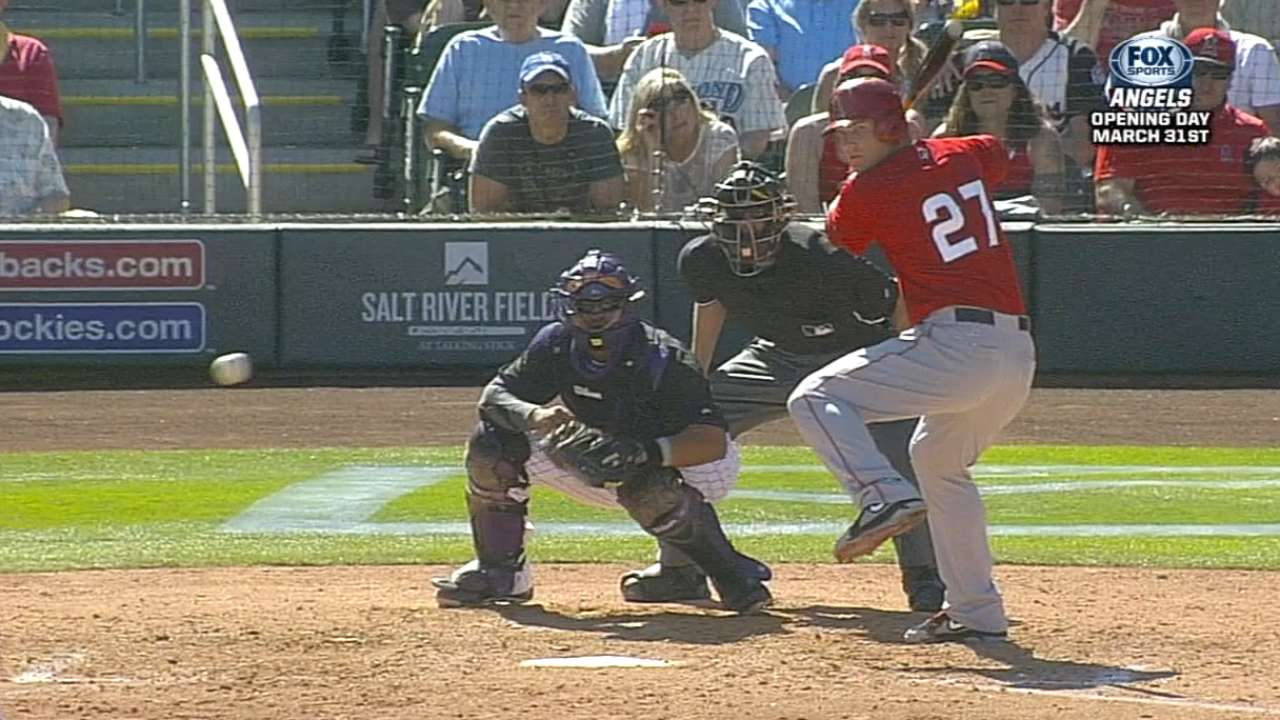 SCOTTSDALE, Ariz. -- Few guys have been in as many deep counts as Mike Trout these last two years. Only eight of them have had more plate appearances with a full count; only six have hit with two strikes more often. The approach is a credit to Trout's comfort with two strikes, but it's one that also leads to a lot of walks and strikeouts, limiting the star-studded outfielder's ability to drive in runs.
This year, it'll be different.
"I think the biggest thing, for me, is being aggressive early," Trout said. "A lot of counts last year, I'd be taking, seeing pitches. But I'm going to be aggressive this year. Instead of just flipping one over for strike one, or 2-0 strike one, I'm going to be up there hacking, I'm going to be up there swinging."
Playing against the Rockies at Salt River Fields on Saturday, a 4-4- tie, Trout struck out in his first at-bat, grounded out to third in his second and noticed he was out in front. His third time up, he committed to keeping his hands in, even if it meant getting jammed, and then took an inside fastball and hit it way over the center-field fence for a two-run homer that probably traveled 450 feet.
Trout's batting .433 this spring, but most gratifying to him is that he's struck out only four times in 32 plate appearances.
In his brief Major League career, strikeouts have been the only aspect of his hitting that could deserve criticism. Trout has fanned 275 times these last two years, a mark that's tied for 23rd in the Majors and was mainly a byproduct of taking a lot of early, get-me-over strikes. Trout jumped on the first pitch only 35 times last year, which was less than 215 Major Leaguers.
That number could go way up this year.
"It depends on the day," said Trout, who was also hit by a pitch and stole a base on Saturday. "If I'm seeing some pitches, and I have a good feel for the guy, I'm going to go up there and hack."
Alden Gonzalez is a reporter for MLB.com. Read his blog, Gonzo and "The Show", and follow him on Twitter @Alden_Gonzalez. This story was not subject to the approval of Major League Baseball or its clubs.