Wilson feels responsibility to go deep into games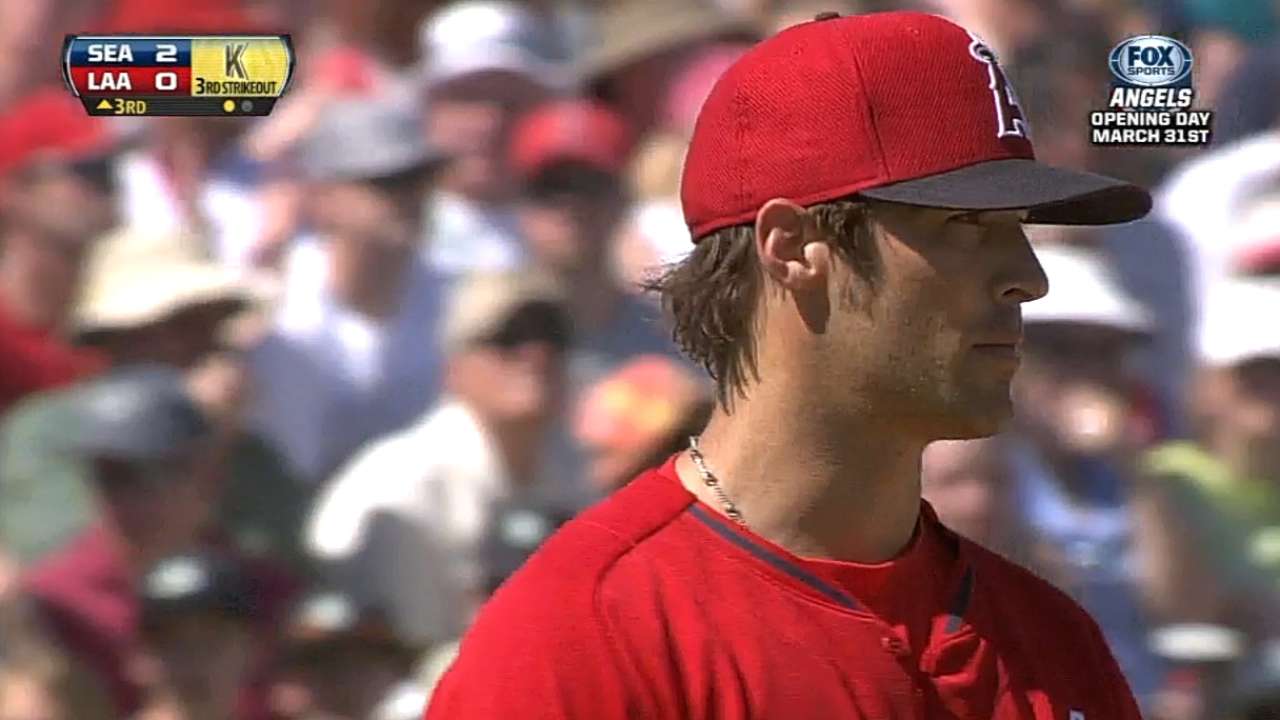 TEMPE, Ariz. -- C.J. Wilson perpetually strives for better efficiency, and this year it may be more important than ever.
In Hector Santiago, Garrett Richards and Tyler Skaggs, the Angels project to have three young starters who have never spent a full season in a Major League rotation. And so it'll be up to their ace, Jered Weaver, and their No. 2 starter, Wilson, to consistently pitch deep into games and not put so much of a burden on the bullpen.
"On your bad days, you have to be OK," Wilson said after being charged with four runs (two earned) while throwing 91 pitches in five-plus innings against the Mariners on Sunday. "If you're bad on your bad days, and you're like Jered and I and you're at the top of the rotation, then that hoses everybody else. So you have to be OK on your bad days. If you can get a quality start on a bad day, then that's a victory in a lot of ways."
Wilson was by far the Angels' most consistent starter last year. He's the only one who took every turn, and led the club in innings (212 1/3) and quality starts (24) while winning 17 games and posting a 3.39 ERA.
But the 33-year-old left-hander, who throws a lot of pitches with a lot of movement, has walked 3.7 batters per nine innings since becoming a starter four years ago, seventh-highest in the Majors over that span. And last year, he threw the fifth-most pitches per inning among qualified starters (17.2). In spite of all that, Wilson has managed to top 200 innings in four consecutive seasons.
But he knows he can get deeper, more consistently.
"And that's what's frustrating about today, in terms of pitch efficiency," Wilson said, referencing a two-run first inning that saw him face eight batters.
"That's why I lose sleep is those days when I don't have a good game. I don't sit there and look at the stats and say I didn't have a quality start. I think, '[Man], I didn't do the bullpen any favors. I didn't give our team what they needed today.' You learn that responsibility as a starter."
So, what's the ideal amount of innings for a starter?
"Your goal is to go out there and throw eight, realistically," Wilson said. "It's a nice, round number. Like a snowman."
Alden Gonzalez is a reporter for MLB.com. Read his blog, Gonzo and "The Show", and follow him on Twitter @Alden_Gonzalez. This story was not subject to the approval of Major League Baseball or its clubs.