Angels grant Blanton unconditional release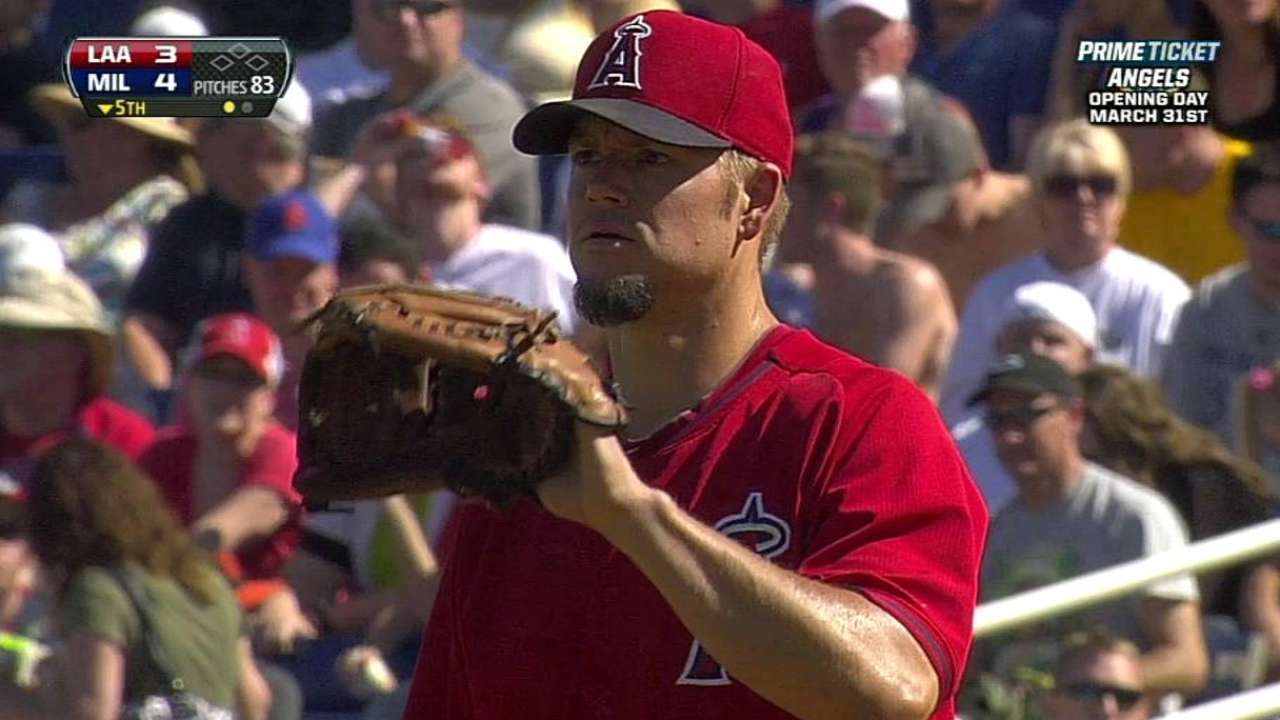 PHOENIX, Ariz. - Angels general manager Jerry Dipoto made a statement about the club's expectations for Joe Blanton when the club granted the veteran pitcher his release Wednesday morning.
Blanton simply had not improved enough to make the team.
Then Dipoto made a declaration of his own.
"It's regrettable. It's a mistake on my part. There is no one else to blame," Dipoto said. "I made the call on signing Joe Blanton and bringing him in. Obviously, this isn't the way he wanted it to work. It's not the way I wanted it to work out. None of us. But unfortunately that's the way it goes sometimes. You make a business decision and move on."
Blanton appeared in four Cactus League games for the Angels this spring, amassing a 7.08 ERA in 20 1/3 innings spanning five appearances (four starts). He came into camp at a lighter weight but without a definitive role.
"Coming into Spring Training, we just wanted to see some adjustment, some type of move forward, an improvement in performance or an adjustment that led us to believe something better was coming and we just didn't see that," Dipoto said. "We had a tough decision to make and we made that decision today. Joe was either going to be on our big league club or he wasn't. Today, we determined that he wasn't."
Jered Weaver, C.J. Wilson, Hector Santiago, Garrett Richards and Tyler Skaggs are expected to make up the rotation and the pitching order continues to come together. Santiago will take the hill Thursday and Richards is scheduled to pitch Friday against the Dodgers in Los Angeles. Skaggs is scheduled to pitch Saturday against the Dodgers at Angel Stadium.
Blanton's departure and the new schedule mean Richards and Skaggs will make their first starts of the regular season on seven-days' rest.
"Joe understands the situation and I think we have all been in this together with Joe for the last year. We've all shared the frustration," Angels manager Mike Scioscia said. "There's not a guy in that clubhouse that works harder than Joe. It's unfortunate that the results of his hard work didn't really translate last year into production. I know he's going to keep going and I'm sure he will get picked up."
Blanton, a 10-year veteran who signed with the Angels as a free agent in December 2012, went 2-14 with a 6.04 ERA last season, splitting time between the rotation and the bullpen. With one year remaining on his contract, he is owed $8.5 million, including a $1 million buyout.
"These (decisions) are tough whether it's zero dollars or $8.5 million," Dipoto said. "The easiest way I can answer that question is that Arte (Moreno) has always been of the mind since I've been here that whatever decisions are best for the quality of the product on the field and give us the best chance to win, those are the decisions that we should make. That's the decision we made today."
Jesse Sanchez is a national reporter for MLB.com. Follow him on Twitter @JesseSanchezMLB. This story was not subject to the approval of Major League Baseball or its clubs.