MLB.com Columnist
Matt Yallof
View From Studio 3: Chemistry has Tribe in sync
Clubhouse leadership has Indians ready to build off strong spring showing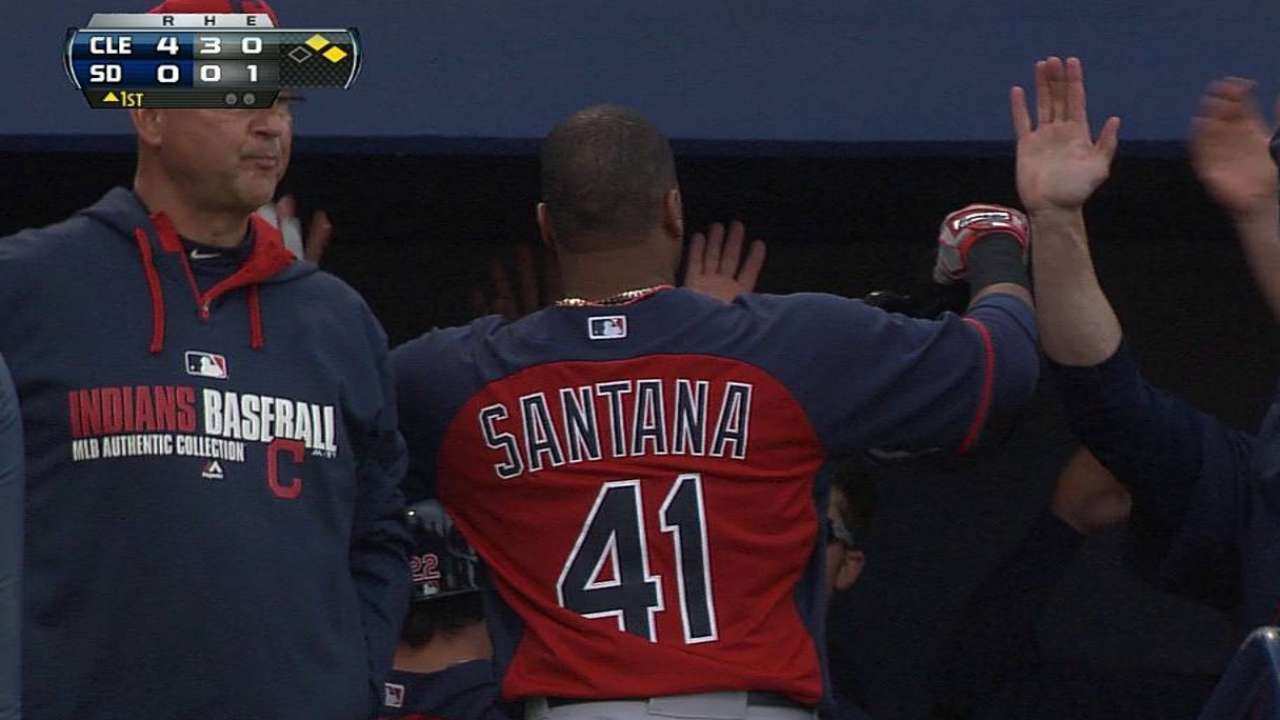 It was Sunday, Sept. 1, 2013. The Cleveland Indians were reeling, having lost five games in a row. In order to snap their skid, the Tribe would have to solve Justin Verlander and a Tigers team that was running away with the American League Central. Young righty Danny Salazar stepped up big time and matched Verlander pitch for pitch for six innings. The game at Comerica Park remained scoreless until the ninth. That's when utility man Mike Aviles stepped up and crushed a grand slam that lifted the Indians to a 4-0 victory. Their magical run towards the postseason was officially underway.
The Indians won 21 of their final 28 games last year including a 10-game winning streak to finish the regular season portion of the schedule. And that has success spilled over into 2014. Including this spring as they've won 41 times in their last 56 games. Obviously, Spring Training games don't count but there's no denying that something special and fun is happening with the Tribe.
The versatile Ryan Raburn, entering his second season with Cleveland, sums it up like this, "It starts from the top, you know -- we got our leader in [manager Terry] Francona. He sets the bar for us. Sets the tone and we just follow. You know he makes it enjoyable and expects the most out of us. We expect the most out of each other too. We just go out and play and have fun. We expect to win and if we don't that night we take it to the next day."
Sounds so easy, right? But finding proper talent, chemistry and perspective is not that simple. Raburn certainly has what it takes to succeed as a versatile piece who pops up all around the field. Like the vermin in that carnival game "Whac-A-Mole' you can't keep him down and he's tough to keep track of. Raburn is a perfect complimentary piece on a roster devoid of mega stars making insane baseball money. Much of the credit goes to the front office for finding the right combination of players who can thrive without household names at virtually every position.
Chasing down Raburn's former team, the powerful and rich Tigers, is no easy task. But he compares his current club favorably to the three time defending AL Central Champions.
"We had some big name players over there with Verlander, Cabrera, Victor [Martinez] and Prince [Fielder]. So you had those big money guys that you expected to carry the team. Over here we have some great ballplayers but all in all we have a totally better team as far as playing the game. We make stuff happen. You look at our numbers last year and we didn't have a guy close to 100 RBIs and we were able to score runs and win ballgames and I think that says a lot about the teams makeup."
At 32 years old and having never played more than 121 games in a Major League season, Raburn could easily be a face of the club. He's fun, easy, loose and all about "team." Raburn's enjoyment of the game is both refreshing and infectious.
Oh, yeah. There's also his production. In only 87 games and 277 plate appearances last season, he hit 16 home runs, drove in 55 runs and posted on base percentage of .357. If he had played everyday and continued that pace, you're looking at an All-Star.
"I accept my role. I enjoy it. The more chances I can get in there, of course, the better," Raburn said. I'm just here to help the ball club and whatever that calls for. Playing right, left, first, DH, whatever it is, you know? Of course I want more. I think that's what drives every ballplayer and I think that's what makes our bench so successful. We accept our responsibilities and take care of our actions."
It's not just on the field where the Indians deliver. Behind the scenes, Raburn says, it's a tight knit group looking out for one another. From the skipper to the coaches to fellow part-timers Jason Giambi and Aviles.
"That's what is great about this club, it's not one guy you have to lean on. Of course you have Big G in the clubhouse who you can lean on for anything," Raburn said referring of course to 43 year old Giambi.
"Me and Mikey [Aviles] talk a lot because we're both bench guys called upon to do the same kind of roles. We pick each others brains a little but all in all the whole organization is great," Raburn said.
Great behind the clubhouse walls and getting better and better on the field. If there was a way to truly measure chemistry and its correlation to winning games, The Indians would be on the short list of the best in baseball.
Matt Yallof is the co-host of The Rundown on MLB Network from 2-4 p.m. ET. Follow him on twitter @mattyallofmlb. This story was not subject to the approval of Major League Baseball or its clubs.