Trout not getting caught up in comparisons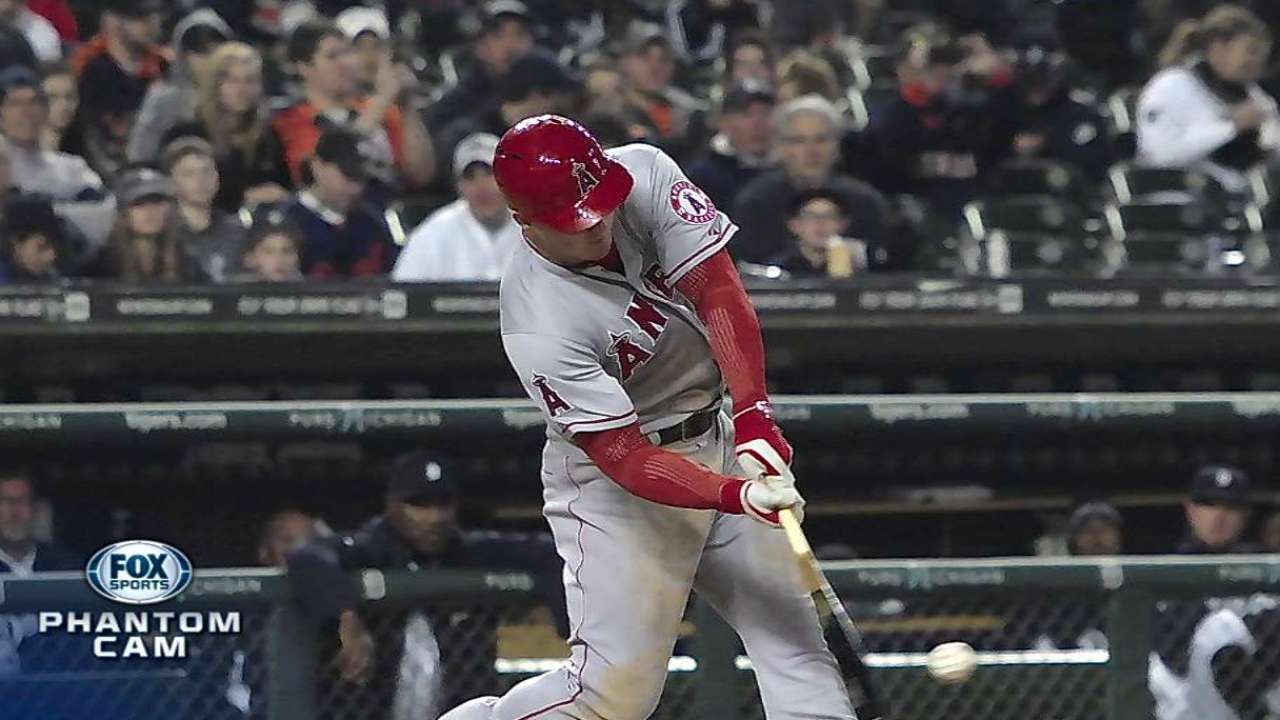 WASHINGTON -- The Angels were in Detroit last weekend, and the dominant storyline revolved around Mike Trout matching up against Miguel Cabrera, two players who have gone head-to-head for the American League Most Valuable Player Award in back-to-back years. The Angels are in the nation's capital now, and it's all about Trout sharing the same field as Bryce Harper, the fellow phenom many believe can be Larry Bird to Trout's Magic Johnson, or vice-versa.
"This is the most tickets I've ever left today," said Trout, who opened up 15 seats to family and friends who made the 150-mile commute from his hometown of Millville, N.J.
"Sometimes it gets a little overwhelming, because you want to see everybody and talk to everybody. Sometimes it's tough. You have a lot of things to do, and you have to prepare for the game, obviously."
It can be a lot to take on for any player, not to mention a 22-year-old one. But the Angels don't worry so much about that with Trout, because he's never given indication that any of this actually gets to him.
"They talk about him having five tools, but I think he has 10," Angels first baseman Albert Pujols said, referring to Trout's innate ability to simplify the game and never let the outside noise distract him from what he has to do within the lines.
Pujols had a talk with Trout before the Angels kicked off a series from Comerica Park on Friday, to make sure he didn't get caught up in the comparisons with Cabrera or Harper. But it might not have even been necessary.
"It's not about him," Pujols said. "It's about what he can do to help this ballclub. Young players, especially 22 years old, don't do that in this era. That's what I admire the most about him."
Trout and Harper played together on the Arizona Fall League in 2011 -- "There was a lot of hype, but we were terrible," Trout said, laughing -- and then against one another in the All-Star Game last year. But this is the first time the two phenoms, both Rookie of the Year Award winners in 2012, play against one another in a regular-season game.
Trout doesn't like to look at it that way, even while everybody else does.
"It's not like we really compete against each other," Trout said. "We're both trying to get hits, obviously. For me, if I try to do too much, that's when I get in trouble. I'm just trying to win ballgames."
Alden Gonzalez is a reporter for MLB.com. Read his blog, Gonzo and "The Show", and follow him on Twitter @Alden_Gonzalez. This story was not subject to the approval of Major League Baseball or its clubs.