Pujols: 500 milestone hasn't quite sunk in yet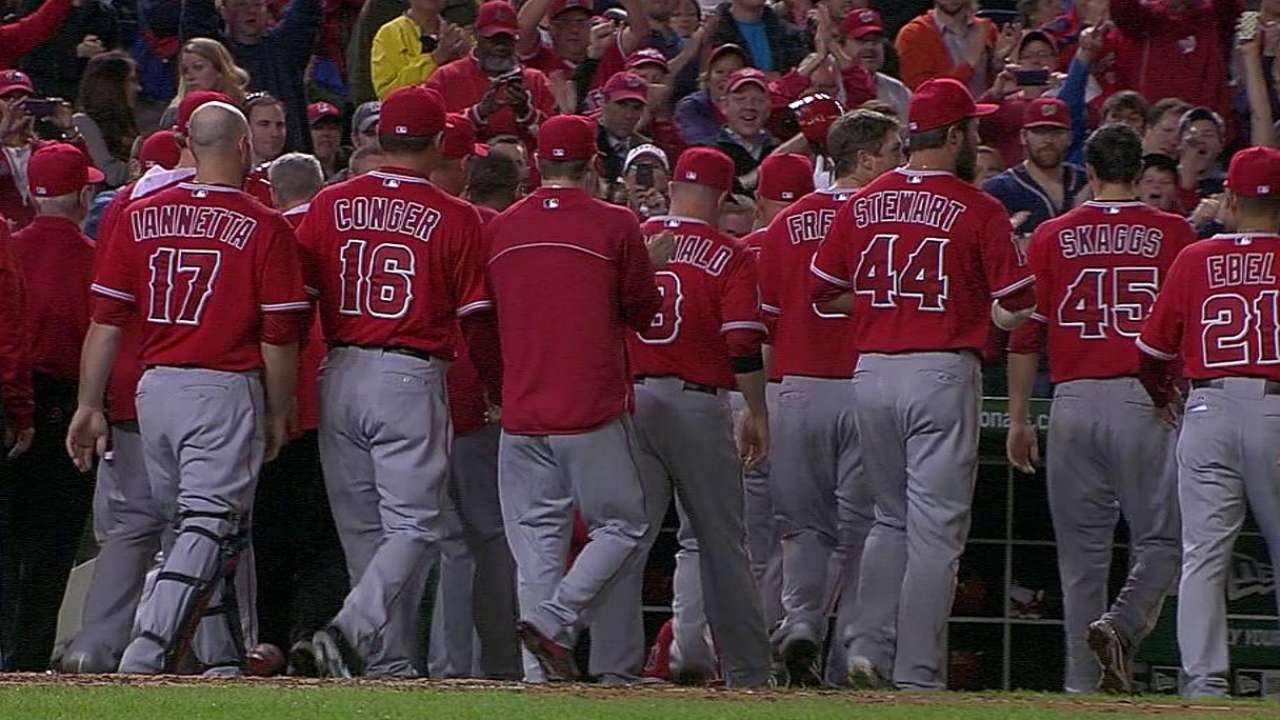 WASHINGTON -- Albert Pujols typically isn't a very good sleeper, and he had no chance of getting a good night's rest on Tuesday.
David Ortiz called him at 2:30 a.m. ET. His phone kept buzzing throughout the night with congratulatory text messages, including one from Derek Jeter. Tony La Russa spoke to him for 25 minutes, mostly reminiscing about the year he made the team in 2001. Oh, and there was that big adrenaline high he couldn't come out of, after becoming the 26th member of the hallowed 500-home run club.
All told, Pujols got about three hours of sleep.
"It's OK," he said, smiling. "I've missed sleep many times in my career."
The moment hadn't really hit him yet, though.
"Not yet," Pujols said before Wednesday's series finale at Nationals Park. "Not yet. A.J. [his oldest son] was asking me a lot of questions last night, when I was talking to him. I'm pretty sure when I get around my family more, and when I call friends to catch up and tell them, 'Thanks for the help,' it's going to catch up."
Pujols hasn't decided what he'll donate to the National Baseball Hall of Fame, but he'll keep the baseball that went out for his 500th homer and display it somewhere in his trophy room. As for the bat? He's going to continue to use it, because it's hard to let go of a bat that was responsible for two home runs -- the two home runs that made Pujols the first player to hit Nos. 499 and 500 on the same day.
"I'll talk to the family and see what they want," Pujols said. "My family is most important."
Three moments still resonated with Pujols from Tuesday night: Circling the bases and "thanking the Lord" after his historic, fifth-inning two-run homer against Taylor Jordan; picking his head up before he crossed home plate and seeing all of his teammates gathered around the batter's box; and returning to the clubhouse after on-field interviews and seeing all of his teammates waiting for him again, to congratulate him one more time.
"Those moments are pretty special," Pujols said. "I have some special moments in my career, and I told them last night this is one of them, but nothing tastes better than raising the championship trophy at the end. Hopefully we can get that opportunity this year. That'd be sweeter than what happened last night."
To eventually be the ninth member of the 600-home run club, all Pujols would have to do from now until the end of his contract -- from 2014-21 -- is average 13.5 homers per season. To reach 700, the 34-year-old first baseman would have to average 26 home runs a year.
Not surprisingly, he isn't getting ahead of himself.
"My goal is still going to be the same goal I've had from Day One, and that's about winning and taking care of 25 guys here and representing this name across my chest," Pujols said. "Before you get to 700, you need to get to 501 and 600. So you can't go all the way to 700 in one at-bat. I don't play for numbers. I play to try to win championships."
Alden Gonzalez is a reporter for MLB.com. Read his blog, Gonzo and "The Show", and follow him on Twitter @Alden_Gonzalez. This story was not subject to the approval of Major League Baseball or its clubs.