Pujols: Too soon to talk about Home Run Derby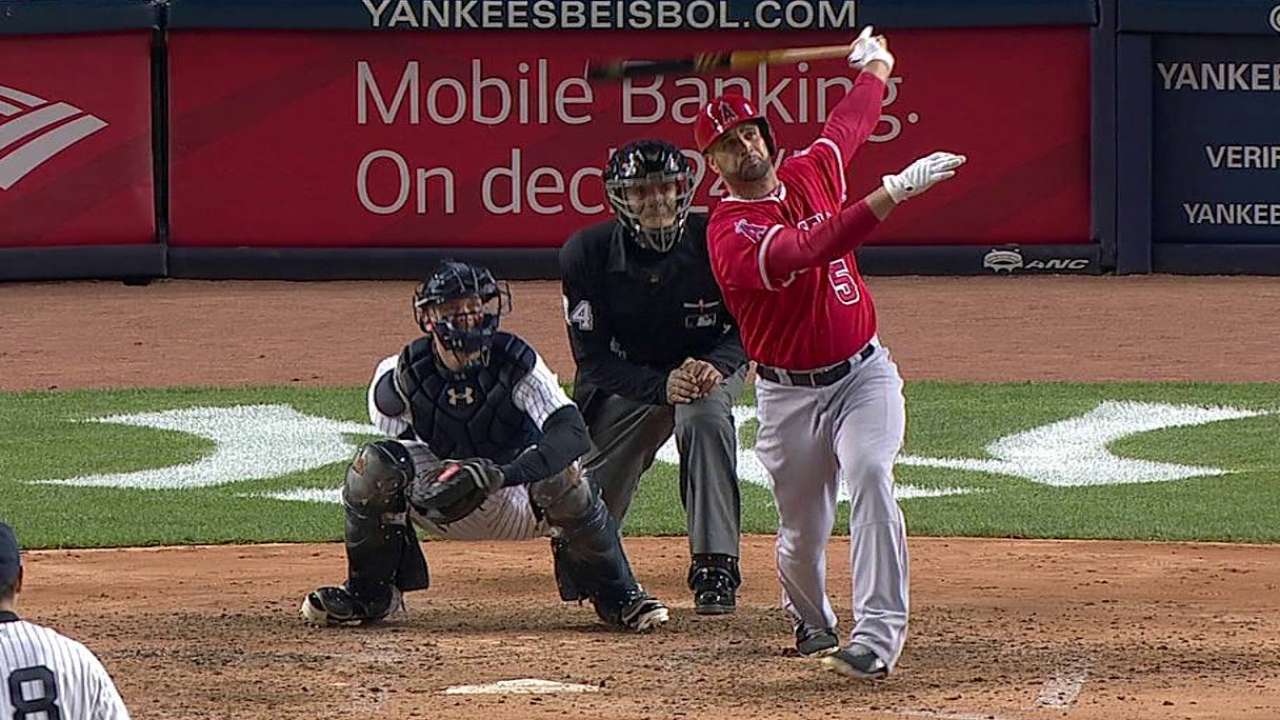 NEW YORK -- Albert Pujols' oldest son, A.J., was with him during the weekend series at Yankee Stadium, and he had a special request on Sunday.
"He told me this morning, 'Daddy, I want you to do the Home Run Derby this year,'" Pujols relayed.
Well?
"I'm like, 'I don't know,'" Pujols said with a big smile.
"It's too early for me to talk about that. I have to make the All-Star Game first. It's been four years since I made it."
Home Run Derby participants don't have to make the All-Star team, but Pujols has always said he'd never participate if he wasn't chosen as an All-Star.
His .299 batting average, .358 on-base percentage and .639 slugging percentage -- tops in the American League heading into Sunday's series finale against the Yankees -- give him a good chance to make the AL All-Star team for the first time since 2010 if he stays healthy. And his nine homers, one shy of White Sox rookie Jose Abreu for the Major League lead, would make him a logical choice for the Home Run Derby.
And Pujols doesn't buy the notion that taking part in it can ruin your swing for the second half.
"It doesn't," he said. "You get a little sore, for sure, in your ribs. But besides that, it didn't affect my swing. I took it like regular BP."
Pujols finished second to then-Angels outfielder Garret Anderson in the 2003 Home Run Derby, then batted .331/.416/.623 in the second half. He finished fourth in '07, when then-Angels outfielder Vladimir Guerrero won it, and then batted .349/.450/.631 in the second half. He finished fourth in '09, four spots behind Prince Fielder, and hit .322/.427/.582 in the second half.
The 2014 Home Run Derby will take part Monday, July 14, from Target Field in Minneapolis, the day before the 85th All-Star Game. Captains typically aren't named until June.
"I think it's fun," Pujols said of the competition. "It's awesome. For guys that haven't done it, I encourage them to do it at least once. It's awesome. It's a good time. And you put on a good show for the fans. That's what you do it for."
Alden Gonzalez is a reporter for MLB.com. Read his blog, Gonzo and "The Show", and follow him on Twitter @Alden_Gonzalez. This story was not subject to the approval of Major League Baseball or its clubs.