Weaver getting used to Angels shifting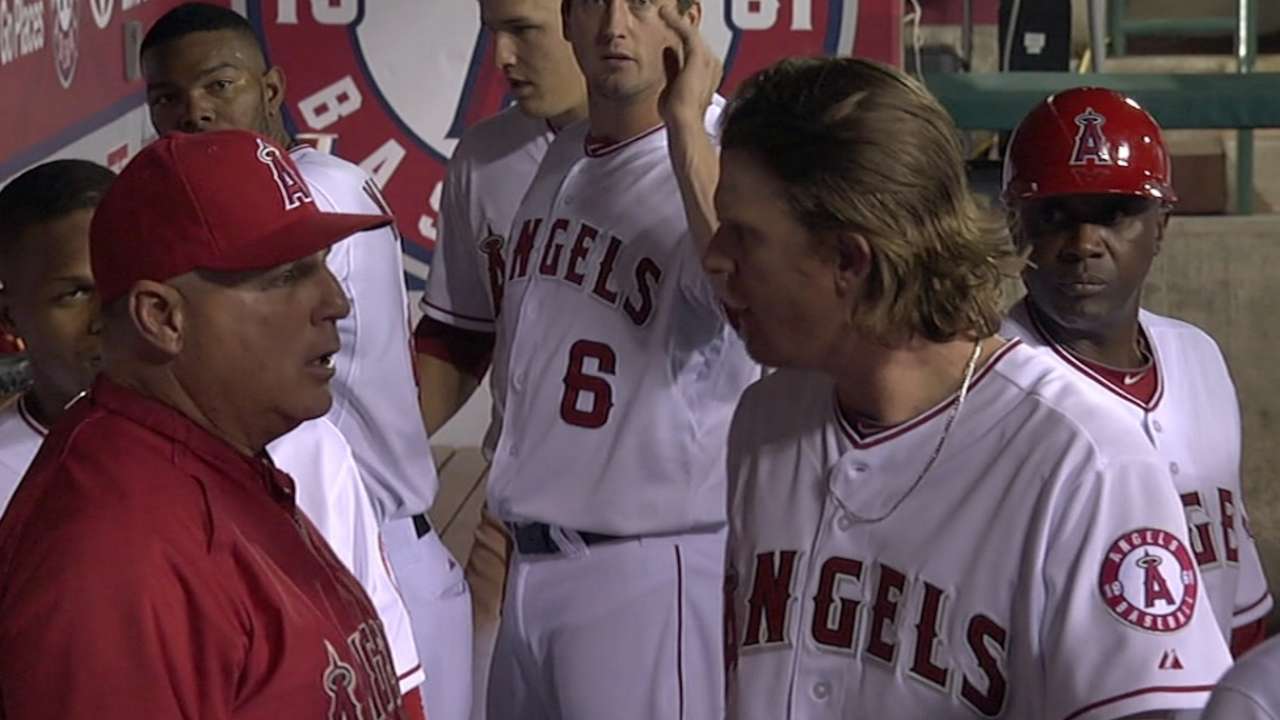 ANAHEIM -- Over the course of an entire season, the Angels -- and several other teams -- believe that an increased amount of shifting will have taken away a lot more hits than it has given up.
Jered Weaver is still waiting for that to benefit him, though.
Against the Indians on Tuesday, three hits came as a result of the Angels' shifts -- an Asdrubal Cabrera bunt in the second, a Carlos Santana bunt in the fourth and a Michael Brantley double on what would've otherwise been a routine grounder to third in the sixth. And against the Nationals last Wednesday, Weaver recalled three similar instances -- a blooper by Bryce Harper, and bunts by Anthony Rendon and Danny Espinosa.
"When it works, it's great, and when it doesn't, it's frustrating," Weaver said. "What are you going to do?"
Weaver had an animated discussion with Angels manager Mike Scioscia about shifting after the fourth inning, then glared at the dugout after Brantley's double. But the ace right-hander said Wednesday that it was only a heat-of-the-moment circumstance, and that there are no problems between him and the coaching staff.
This is just something he'll have to get used to.
"The game, it's changing, man," Weaver said. "It's becoming more number-oriented. There's so many numbers out there. It's almost overwhelming for a guy like myself. I like to keep it as simple as possible, not get too many things going on in my head. I just want to go out there and try to make pitches.
"But I don't worry about any of that stuff, to tell you the truth. It is what it is. I'm not one of the coaches, I'm not one of the guys that are figuring this stuff out. I just work here, man. I'm a pitcher, and whatever they're going to do, they're going to do."
The Angels are shifting a lot more this year, with Nick Francona and Rick Eckstein mostly responsible for compiling the spray charts that dictate where defenders will be situated. But pitchers were told not to necessarily pitch to the shift; just attack hitters the way they normally would because the numbers will ultimately work to their benefit.
If you go solely by opponents' batting average on balls in play, shifting is working to the Angels' benefit so far this year. Heading into Wednesday's game, opposing BABIP was .269, third-lowest in the Majors. Last year, it was .300, which ranked ninth.
The bunts against the shift, or the occasional balls that go to spots where a traditional alignment would have a fielder situated, is a trade-off the Angels will gladly take.
"You're going to get beat; you're going to have balls that go through different parts of the field," Eckstein said. "But over the course of the season, you can look back and go, 'Wow, we won out more often than we didn't.' And I think we're on that track."
Alden Gonzalez is a reporter for MLB.com. Read his blog, Gonzo and "The Show", and follow him on Twitter @Alden_Gonzalez. This story was not subject to the approval of Major League Baseball or its clubs.