Sore back likely to sideline Trout on Wednesday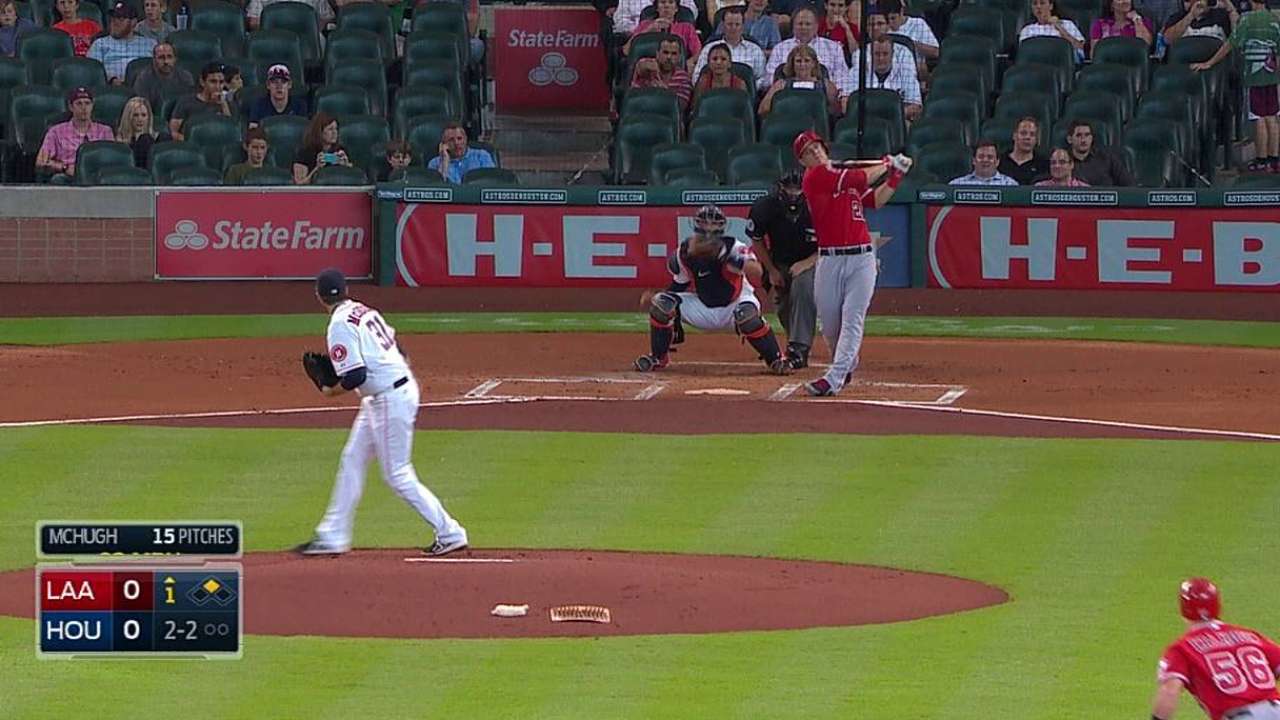 HOUSTON -- Mike Trout thought he was past feeling any discomfort in his back, but the Angels' superstar center fielder was removed from Tuesday's 7-2 loss to the Astros after just one inning and will get re-evaluated on Wednesday.
Trout, who is batting .293/.379/.546 this season, didn't play Saturday and Sunday in Oakland due to tightness around the middle of his back. He got some treatment during the team's off day on Monday, took early batting practice at Minute Maid Park's indoor cage on Tuesday and said pregame that he "didn't feel it at all."
Early on in the game, though, "I felt something," Trout said. "It's the same thing I've been feeling for a couple of days and I didn't want to push it." Trout added that he's "not too concerned" because "it's made progress over the last few days, so it's obviously getting better."
The 22-year-old likely won't play on Wednesday, and the Angels will hope that it isn't a prolonged injury.
"It wasn't quite where he thought it could be, and as he got out there it was getting a little bit tight on him," manager Mike Scioscia said. "We'll definitely take a half-step back here and find out exactly what's going on."
After coming out of the game, Trout was seen by a doctor, who told him it was nothing major, at Minute Maid Park.
"It's frustrating for me," Trout said. "I want to be out there, but on the other side, I want to be able to play, fully healthy, and I don't want to risk anything."
Trout struck out against right-hander Collin McHugh in the first, capping a seven-pitch at-bat, then played defense in the bottom half but nothing was hit to him. In the bottom of the second, he was replaced by Collin Cowgill.
Trout said he just "didn't feel comfortable," and he has no idea how these back issues started in the first place.
"There's a lot of things you can say it was," Trout said. "Maybe the adrenaline was rushing in that [Sean] Doolittle at-bat [on Friday] and I didn't feel 'til the next morning, but I couldn't tell you."
Alden Gonzalez is a reporter for MLB.com. Read his blog, Gonzo and ?The Show?, and follow him on Twitter @Alden_Gonzalez. This story was not subject to the approval of Major League Baseball or its clubs.