Bedrosian promoted, Kohn demoted to Minors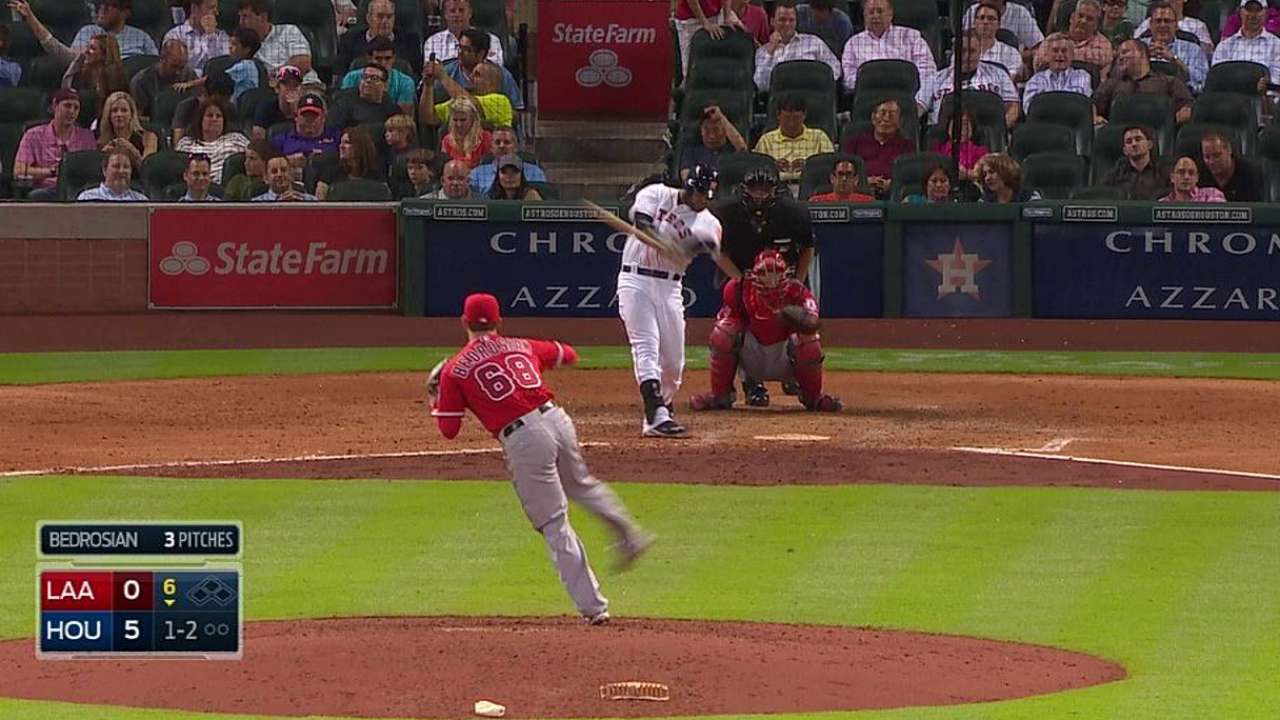 HOUSTON -- It's rare to go from Class A Advanced to the Major Leagues in two months.
Unless, of course, you're striking out almost two batters an inning.
That's what No. 13 prospect Cam Bedrosian was doing in the Minor Leagues this year, and that's basically why he was called up for his Major League debut on Tuesday. The move was done in large part because fellow reliever Michael Kohn, optioned to Triple-A Salt Lake to clear a spot on the roster, needs to work out some kinks in his delivery.
But Bedrosian strapped a jetpack to his Major League timeline, posting a 1.22 ERA while striking out 45 batters in 24 innings for Class A Inland Empire and Double-A Arkansas.
"This has happened really quickly," said Bedrosian, son of Steve Bedrosian, who won the 1987 National League Cy Young Award as a member of the Phillies. "I didn't expect this at all."
Kohn has a 3.05 ERA in 25 innings, but he has also walked 7.6 batters per nine innings and has struggled since a 17-appearance scoreless streak, giving up six runs in 4 1/3 innings.
Manager Mike Scioscia said Kohn "needs to find his delivery," and that "his upside is more than us just trying to get him in innings right now to try to get back in sync, so it'll be good for him to go down there and work some things out."
Scioscia, currently with a six-man bullpen because Matt Shoemaker can momentarily provide some length, would ideally like to get Bedrosian in some low-leverage situations to "get his feet wet" -- but his mid- to high-90s fastball and wipeout slider can translate to the back end of the bullpen.
"Cam has been on our radar for a while now, and our player-development people have been putting a lot of time on him, getting a lot of evaluations and paying a lot of attention to just exactly where he is," Scioscia said. "I think everybody's comfortable with the fact that he's making his pitches and his stuff will play in the big leagues."
Bedrosian was plucked out of high school in Georgia with the 29th overall pick in the 2010 First Year Player Draft, then underwent Tommy John surgery the following April, struggled as a starting pitcher in 2012, was moved to the bullpen in 2013, posted a 4.57 ERA in 63 innings at both Class A levels and watched his stock skyrocket in a matter of nine weeks.
Bedrosian made his Major League debut in the sixth inning of the Halos' 7-2 loss, getting a strikeout and two groundouts to second base -- with his parents, sister and brother watching from the stands.
"I wouldn't be where I am without them," Bedrosian said. "They're my support. It's great having them here."
Alden Gonzalez is a reporter for MLB.com. Read his blog, Gonzo and ?The Show?, and follow him on Twitter @Alden_Gonzalez. This story was not subject to the approval of Major League Baseball or its clubs.